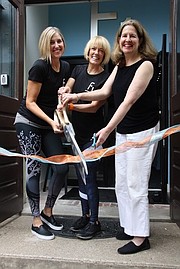 FitOne, a woman-owned personal training studio, celebrated a grand reopening Oct. 6 at its new location at 319 Cameron St. Caity Davis and Jill Stump founded the company in 1999 with a studio originally located on N. St. Asaph St.
"At FitOne, we offer highly individualized training programs for everyone from exercise amateurs to fitness fanatics," Davis said. "We're results-oriented and help our clients achieve lifelong, injury-free fitness, using the latest and most effective training techniques and programs."
Mayor Allison Silberberg joined Davis and Stump in the ribbon cutting ceremony at the new studio, which is located in an 1850s townhome. Davis and Stump spent several months renovating the space to suit the fitness industry and opened its doors in May.
"The grand reopening was truly a success and the energy really showed what FitOne is all about," said Davis. "We have created an atmosphere where people can come together to evolve their fitness and be their best selves."
See www.fitonestudio.com