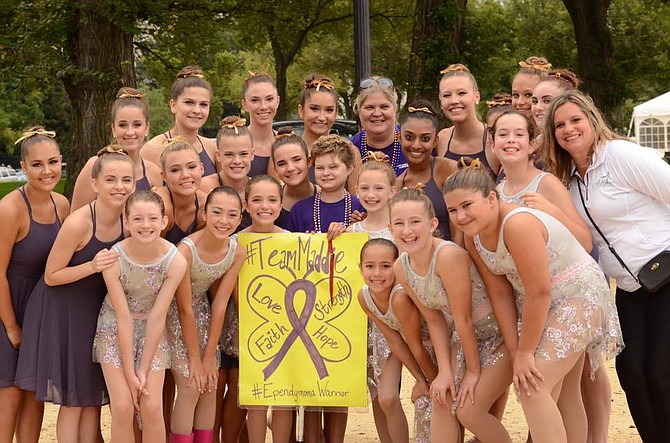 Groggy but full of anticipation, they rode the early-morning Metro into Washington, D.C., adding finishing touches to hair and makeup, preparing to dance for their friend Maddie Davis at CureFest, an annual event to raise awareness and advocacy for childhood cancer. They are the dancers of ArtSpire, and they've been in the inspiration business for a while now. Founder and troupe leader Gennifer Defilippo launched her nonprofit three years ago with a three-pronged mission: volunteering and performing at benefits for worthwhile causes, raising money for the needy, and giving a leg up to those less fortunate through scholarships and classes. This time, it was Maddie who had inspired these dancers, and they were eager to meet her in person and share her story through dance.
Maddie had had a couple of amazing days herself, traveling to the nation's capital with her family from their hometown of Hampton, Va. Maddie's mom, Melanie Davis, said, "We'd heard about CureFest for a couple of years, and I knew we had to get Maddie there." CureFest unites lawmakers and the general public with families battling childhood cancer in order to make the fight a national priority. Melanie Davis said, "This was the year, especially because of the amazing dancers of ArtSpire."
Defilippo had been trying to get her ArtSpire dancers to perform at CureFest for a few years. They were finally accepted this year, and her dancers knew they'd dedicate their performances to their friend Maddie.
Maddie is a warrior in the fight for her life against ependymoma, a form of brain cancer. Diagnosed at 5 years old, she has spent the last four years battling the brain tumors and spine tumors of ependymoma, undergoing multiple rounds of surgery, chemotherapy, and radiation. Through it all she goes to school whenever she can, happy to return to dance class finally. Though she'd have preferred to be on stage with the troupe at CureFest, Maddie was thrilled to feel well enough to not only see the show but also to meet the dancers. They've known about each other for a year, when Defilippo met Melanie Davis and learned of Maddie and her battle with ependymoma. Defilippo's ArtSpire dancers adopted Maddie from afar.
Walking the grounds of CureFest, Maddie and Melanie Davis met some of Maddie's idols: Ariel, Snow White and Sleeping Beauty. Still a little girl enthralled with these friendly Disney princesses, Maddie was elated to walk among and visit with them. And then Wonder Woman and Supergirl approached her to take a selfie with them. Who was the celebrity here, anyway? Melanie Davis said, "The biggest takeaway for Maddie was that she 'isn't the only one.' She knows she is not the only kid with cancer but to see kids are just as loved and special and brave as she is was both humbling and comforting."
ArtSpire choreographer Hannah Nobles planned Maddie's dance. "We researched postings made by Maddie and her mom on social media. We wanted their voices to be heard, with quotes that showed Maddie's strength and hope along with the difficult reality of what they were all going through," said Nobles. "I tried to match dance steps to follow the quotes, lifting and supporting. I chose Sia's song, 'Angel by the Wings,' because she sang 'you can do anything.'" As the music began, a dancer's voiceover said, "I wish I was Sleeping Beauty – she doesn't have pain." Astonished, Maddie turned to her mom and said, "Wait, I said that!"
Knowing how much her daughter misses the social interaction other 9-year-olds normally experience, Melanie Davis watched as the dancers wrapped Maddie in a group hug. They were excited to finally meet her, and Maddie was moved to be welcomed by them.
As Melanie Davis expressed to all of Maddie's fans on the #TeamMaddie Davis Facebook page, "Any words I could string together would fall woefully short of adequately expressing the amazingly powerful, motivating, heartbreaking and hope-creating experience we had at CureFest. To see Maddie honored by the girls of ArtSpire in such a powerful and beautiful way, and on such an important and meaningful stage, was truly overwhelming. My takeaway was that one single person, a child even, can drive the change that will save us all."
Defilippo agreed. "It was a very special and emotional day for all. This is the beauty of ArtSpire and why I do what I do. Dance is more than just putting steps together; it is inspiring. Dancers can help those struggling and inspire many through their art. Hence our mission statement, Inspiration through the Arts." Defilippo believes in not only inspiring those hurt and suffering, but also inspiring those who have never felt that hurt or suffering, by bringing the two together. "At CureFest, our young dancers displayed how truly inspired they are by this young lady, by her smile, her spunk, her fight. We were all winners."