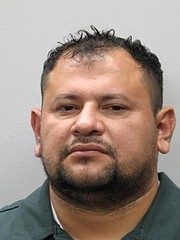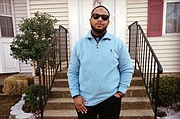 After a night of drinking at Centreville sports bar Velocity 5, two men who didn't know each other got into an altercation. But things turned tragic when one of them pulled a knife and fatally stabbed the other. The victim, Centreville resident Harold Garnett, 27, later died at the hospital.
The assailant, Vidal Flores Cuchillas, 38, also of Centreville, was apprehended by police and charged with second-degree murder. And after a four-day trial, Oct. 1-4, in Fairfax County Circuit Court, the jury found him guilty of voluntary manslaughter and recommended he serve 10 years in prison.
"The defendant claims self-defense," said Assistant Commonwealth's Attorney Ryan Bredemeier in his opening statement. "But this was not a justified killing. [Flores Cuchillas] didn't have to use a knife to stop [Garnett]. This was an intentional and malicious act."
The tragedy occurred Nov. 4, 2017, shortly after 2 a.m., in Velocity 5's parking lot in the Trinity Centre off Route 29. Police Officer Matthew Schafer was the first officer responding to the scene. "I saw [Garnett] lying on the ground with a large wound on his chest and bleeding profusely," he testified. "A bartender was applying pressure to the wound, and I told him to continue."
Schafer said several pools of blood on the ground indicated where a fight had occurred. He found Garnett beside the rear, passenger side of a blue car. Officer Darrell Haley then arrived and applied a chest seal over Garnett's wound, And an ambulance from Fire Station 17 rushed the injured man to Reston Hospital.
Trauma surgeon Ranjit Pullarkat treated Garnett. He said Garnett's heart "wasn't actively pumping" because it had a 2- 3-centimeter laceration in the right ventricle. After stitching it closed, doing "open-cardiac massage" and giving him medications, the doctor got Garnett's heart beating again. Garnett was then moved to the Intensive Care Unit, where he remained in critical condition until he died, that evening.
Dr. Meghan Kessler, assistant chief medical examiner for Virginia performed the autopsy on him. She said his stab wound was 1/2-inch long, but deeper than its length and resembled a letter Y. She said its shape was caused "either by the knife changing direction or the motion of [the victim]. From the surface of his skin to where the knife entered the heart was approximately 1-3/4 inch deep."
"Is it possible that the knife actually went deeper than your measurements?" asked Bredemeier. Kessler replied yes. She also said the wound's path was from front to back and downward. Noting that the cut in his right ventricle was 3/16 of an inch long, she said that, without medical intervention, "It can be rapidly fatal." And when the prosecutor showed her Flores Cuchillas's knife – which police were able to find – she said it was "compatible and consistent" with Garnett's wound.
Under cross examination by public defender Dawn Butorac, Kessler said a toxicology test done on Garnett showed both metabolized cocaine, plus a substance consistent with Ritalin, in his bloodstream. But forensic toxicologist Dr. Carol O'Neal said both substances were "lower than our lowest calibration."
Next, Garnett's friend and roommate, Christopher Cunningham, said the two were drinking at Velocity 5 and Flores Cuchillas was there with two other men. They all left at closing time, with Garnett leaving ahead of Cunningham.
When he got outside, said Cunningham, Garnett and the three men were arguing. "They bum-rushed my friend, and that's when it became a [physical] fight," said Cunningham. "Harold shoves one of the guys back and he hit the ground. I was in a fight with the two shorter guys, and then both ran away. Harold was fighting [Flores Cuchillas]."
Cunningham said he couldn't see their fight but, afterward, Garnett walked toward him with "a blank stare on his face" and collapsed, falling and hitting the back of his head on the pavement. He also said Garnett had no weapons on him. "He was bleeding a lot," said Cunningham. "I was freaking out, yelling for help and asking people to call 911."
"I saw [Flores Cuchillas] running away, across Route 29," he continued. "I took off after him and said, 'You're not gonna get away.' When I got closer to him, I said I was gonna kill him." But Flores Cuchillas ran into The Meadows neighborhood, and police arrived and stopped Cunningham. "They came out with guns drawn, and I told them, 'He's over there; don't let him get away,'" said Cunningham.
Garnett's friend, Brandon Jones, worked at Velocity 5 and saw the melee outside. He said Flores Cuchillas approached Garnett and Cunningham told him to go away. "I saw [the defendant] reach under his shirt, and Harold was backing up. Next I knew, I saw a body laying next to a car; and when I got to it, I saw it was Harold." Butorac asked Jones why he hadn't told police that Flores Cuchillas had reached under his shirt. Replied Jones: "Because it was so long ago, and I was trying to remember it all."
Meadows resident Michael Wood then testified about hearing "a ruckus out back," in the early morning hours, and seeing a police K-9 unit arrest someone who'd been hiding in the bushes there. Later that afternoon, he found Flores Cuchillas's open knife, "put it in a plastic bag without touching it" and called police.
Homicide Det. John Vickery, a native-Spanish speaker, interrogated Flores Cuchillas, who only speaks Spanish, and the jury received an English transcript of that interview. In her opening statement, Butorac said Flores Cuchillas, a mover, always had a folding knife with a 4-inch blade on him because he uses it for work. She also stressed that Garnett was 273 pounds and 5 feet, 9-1/2 inches; Flores Cuchillas is 140 pounds and 5 feet, 4 inches. And she said the man Garnett pushed to the ground was Edwin, a mute friend of her client's.
During the altercation, she said, "Garnett lands a couple blows to Flores Cuchillas's head. He sees Garnett reach into his waistband and remembers he has a knife. So he takes it out and holds it in front of him to scare Garnett and defend himself. Undaunted, Garnett comes toward him, is stabbed and backs away. Flores Cuchillas didn't realize what he'd done and thought the fight was over." However, Vickery testified that the defendant never told him Garnett hit him or ran into his knife.
Also testifying, via Spanish interpreters, was Flores Cuchillas. He said he didn't know why Garnett and the others were arguing, since Garnett was speaking English. But when he saw Garnett push Edwin to the ground, he said he intervened "so they wouldn't hit him anymore on the ground. Garnett came over me, pushing me."
"I told him, in Spanish, that we were leaving and didn't want any problems," continued Flores Cuchillas. "I raised my hands to tell him to calm down and that I didn't want to fight. But he continued coming after me. I swung at him because I was trying to defend myself. He hit me in the head many times and wouldn't stop. He was touching his waistband and I thought he could have a weapon. I had fear because he was big; I was afraid he would kill me because he was very aggressive."
Flores Cuchillas said he drew his knife to defend himself. He said Garnett then pulled back, "but I didn't know that I'd hurt him. I didn't want to harm or kill anyone; I wanted to go to my house." He said he didn't pay attention to Garnett after that and started walking home. Then Cunningham began threatening him and coming after him, so he ran.
When Butorac asked why he got rid of the knife, he said, "Perhaps I dropped it." But he'd told Vickery he'd thrown it away. He told Butorac he was exhausted from running and hid in the bushes "from the one following me." But he told the prosecutor he wasn't hiding, just resting in a bush.
Bredemeier also asked Flores Cuchillas why he told Vickery that Garnett hadn't punched him. "Because I didn't feel anything [then]; I was nervous," he replied. He also said that, when he heard Garnett was in the hospital, he didn't want to complain about his head.
In his closing argument, Bredemeier said Flores Cuchillas had "convenient amnesia" about the stabbing and, until he testified in court, hadn't said Edwin was being hit. Furthermore, said Bredemeier, "The angle of the knife wound is consistent with what the medical examiner said. That's not an accident or self-defense; that's how you come at somebody – from above to down. This defendant took the knife out and plunged it into Garnett's chest."
Judge Brett Kassabian instructed the jury on the specifics needed to find the defendant guilty of various offenses, plus the circumstances under which they could declare him innocent. After deliberating several hours, the jury of five men and seven women found him guilty of voluntary manslaughter – meaning the crime wasn't committed maliciously, but was intentional and done in the heat of passion during mutual combat.
The attorneys then presented sentencing arguments. Noting her client's six children, Butorac asked for a year in jail. But Bredemeier said Garnett, too, had children, plus another on the way, and his family will never see him again. Requesting a sentence at the high end of the 1- 10-year sentencing range, he told the jury, "You can't bring him back, but you can provide justice for his family."
After more deliberation, the jury recommended 10 years; sentencing will be Dec. 21.