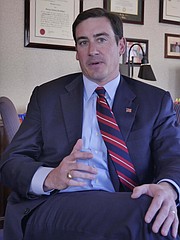 The Eastern District of Virginia (EDVA) is a large geographical area extending from Northern Virginia to Richmond over to the Tidewater area. G. Zachary Terwilliger, an Alexandria native, was appointed United States Attorney for EDVA in May 2018. He has spent the last four months immersing himself in traveling to the field offices and repairing, making and building personal connections with law enforcement officials and his staff of 300. This includes 120 criminal attorneys and 30 civil attorneys as well as 150 support staff. Seventy-five staff are located in Alexandria as well as 25 in Richmond. The criminal division is divided into national security, white collar, drugs, cyber and violent crime.
The criminal cases can range from complex and lengthy cases such as the recent charge against a Russian national for her alleged role in a Russian conspiracy, to simpler "lying and buying" firearms cases which can be more straightforward. While he is not free to discuss the ongoing Russian case, Terwilliger does volunteer he is passionate about firearms cases where individuals lie on Federal forms and then sell to prohibited people. "We can do a lot. This is important for community safety and for officer safety." He says prosecuting these cases has led to deterrence. "We are hearing 'you are too hard on firearms. We wouldn't come to Virginia to buy a gun.'"
How do you manage such a large staff?
Terwilliger: I manage a large bureaucracy by surrounding myself with competent people I trust. You can't try to do it all yourself. I tell them BLUF (bottom line up front). Lay out the main points and the recommendation first. I work long days trying to manage the shop during the day but turning to the "atta boy" personal touch after hours. "Great job, condolence on a death in the family." It is critical to morale. I try to be transparent with my staff. Regular memos on "what I'm up to. Here is how bonuses will work. Here's why we put up flags in front of the building."
Also after 18 months previously at DOJ I knew this office inside and out. I got to travel to 25 other offices. I learned just by being there.
How do you prioritize resources, cases?
Terwilliger: Opiates, national security and violent crime are all important priorities. There are multiple levels of discretion on making these decisions on what to prioritize. We prosecute but many other agencies such as the FBI investigate. We ask what are the local counterparts investigating. I have met with 175 Federal, state and local law enforcement officials.
We ask what types of cases are we willing to take. We make an individual assessment on what is creating a massive problem in a community. For instance, it might be middle school recruitment into gangs by sex traffickers. There is no intake threshold on fentanyl, for instance, where there might be a threshold on marijuana. In law enforcement a low number of people commit an excessive amount of crime.
The EDVA has been called a rocket docket. Can you explain what that means?
Terwilliger: it predates me. You had a judge who said we are going to respect the Speedy Trial Act, which requires a case to be brought to trial in 70 days. Many Districts don't do this. We may be the fastest. There can be ways around it like if you have an overseas witness, the case is particularly complex or there is a lot of translation involved but in general the rule is followed.
Can you compare your experience as counsel to Senate Judiciary Committee Chairman Chuck Grassley from September 2015-September 2016, 2015 with your current position as U.S. Attorney?
Terwilliger. Sure. I was surprised by the level of skills and competence of lawyers on that committee. It was eye opening to me. But I was disappointed in how little we could accomplish on a bipartisan basis. There were so many more things I wish we were able to do. I was naive. Remember this was the run up to the 2016 election.
There were some similarities between the jobs. I prided myself when I was on the Hill that you could call me at any time and get an answer. If you had a mark-up of legislation scheduled at midnight for the next day, you had to be ready. It is similar to working here. You never know what is around the next corner, what the supervisor will assign you, the twists and turns of the job. You need to understand justice but you need to understand the Hill as well. I couldn't have done it without being up there. Of course the U.S. Attorney's office is an apolitical office.
You did a lot of work on sex trafficking when you were an Assistant U.S. Attorney in 2010 assigned to the Major Crimes Unit. What is the status of these efforts today?
Terwilliger: I always feel raising awareness is the first step. Elizabeth Payne has done an outstanding job of this that we didn't have in the past in the Fairfax County Public Schools. In 2013-15 when I was with the Major Crime unit I was seeing human trafficking in Annandale, along Route 1 and in Alexandria. We went into places and raised awareness, talking to parents who knew something was wrong. We knew gangs were sex trafficking, going into middle school dances to recruit.
There is a Federal multi-jurisdictional task force that looks at prevention. We now have a point person here on human trafficking, which is very rare to hire someone to do a specific violation. What I can say is that Congress got it right with the Child Abuse and Treatment Prevention Act. It is very simple, user friendly with harsh penalties.
One of the things that is important to me being Federal law enforcement is it's the whole of government at Federal, state, and local working together. We're not just colleagues; we're friends and having that kind of relationship can get things done. The other thing for me is what makes this impactful, which is the mission. This is my community, my home. I live in Del Ray. I lead the strategic vision that can make a difference right here in Alexandria, like getting rid of people who intimidate through gang activity.
I get to put forth a program on drugs to approach the three-headed monster. First going after the pills being divested. Second working with the postal service and customs and border patrol. The Chinese are mailing fentanyl directly to the U.S. Third is the personnel division. I have hired two new staff, formerly from DEA, who know opiate work inside out. But we can't prosecute ourselves out of this. We offer our drug prosecutors to educate parents, children.
My wife is a school counselor in the Arlington schools. She helps me understand why it is so difficult for people to get out of the returning drug cycle. She sees it.
What led you this direction for your career?
Terwilliger: So I grew up in this area. My father was U.S. Deputy Attorney General and my mother an elder justice attorney. I always heard stories. So I was pointed to service and law enforcement. My grandfather was in WWII, the greatest service. I needed to figure out what direction to go.
I interned here my senior year of high school. That was a watershed. So I became a political science major at the University of Virginia, and that whetted my appetite. It's all about the mission. It's important to me to make an impact here in my own community.