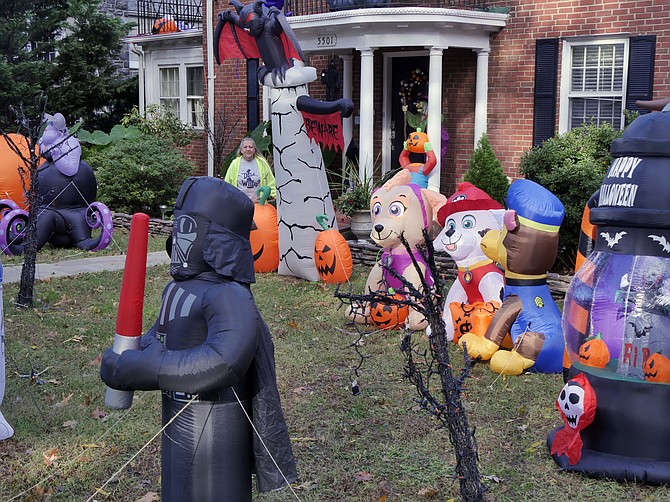 Neighbors stroll by. Carloads of observers hand out their car windows, sometimes causing a traffic jam, in front of Kathy Mirro's Halloween display at 5501 N. 15th Street. Mirro says she starts putting out the display in September, and the children come to watch the inflatable lawn decorations going up.
Mirro says some of the display has changed in the last 15 years. "They wear out."
"I added my cat." A gust of wind whirls by. "Oh my gosh I have to blow my cat back up." She heads for the air pump just behind the huge plastic black cat. "I have had so much trouble with the wind this year. I have to keep putting things back. She looks up on her roof. "Oh my house is falling down."
The wind had blown down one of the witches. "A little boy stopped by and told me he had put it back." She says he was so enthusiastic and asked her if he could help with the tunnel that frames over the sidewalk. If you are brave enough to run by the skeletons in the driveway, walk around the three ghosts and skirt the other critters, you might make it to the front door where a motion-activated witch sings about her bubbling cauldron.
A couple stroll by with a cup of morning coffee. Mirro says, "You should really see this at night. "I have green and blue sparkle lights. And on Halloween night I have a projector that shines on the three pumpkins and they sing."