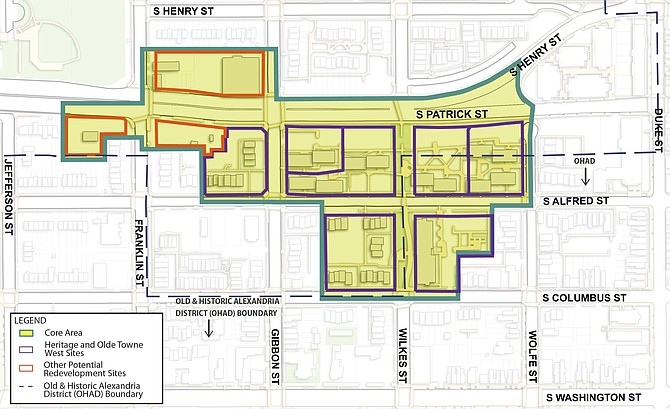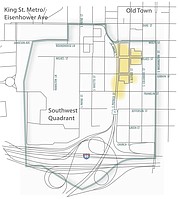 City officials will soon consider the Route 1 South Housing Affordability Strategy, a plan to preserve lower-income housing in southern Old Town through increased residential density.
"The strategy represents a singular opportunity" to stave off "the potential loss of affordability of 215 homes," according to the draft going before the Planning Commission next Tuesday. These homes comprise about five percent of the city's total stock of committed affordable units. Their loss would carry "tremendous human and economic costs."
The homes are spread between The Heritage at Old Town and Olde Towne West III, two properties in Old Town's Southwest Quadrant neighborhood. Ares, a private company, owns one and Alfred Street Baptist Church (ASBC) the other.
The 215 units in question currently receive a federal subsidy in the form of project-based "Section 8" vouchers (PBVs). The vouchers make up the difference between the market rent and what a lower-income household could afford. Whereas half of Southwest Quadrant households make more than $100,000 per year, these PBV units currently serve households making less than half that amount.
"Many of the residents are seniors, some are disabled. But we also have a lot of families and other people who are working people, they just need deeper affordability," said Helen McIlvaine, the city government's housing director.
Economic pressures could cause the loss of these units and the displacement of these households. Some of the initial PBV contracts already expired and now depend on annual renewal; others will expire starting next year. The owners may decide to pursue more lucrative options — say, redeveloping townhouses aimed at higher-income households — rather than renew the PBVs.
Ares and ASBC want to maintain housing affordability, said McIlvaine. But they also face other commitments.
Ares is a real estate investment trust (REIT). A REIT pools investors' money like a mutual fund, except in a portfolio of income-generating properties rather than of one of dividend- or interest-generating stocks or bonds.
"In their current condition … [Ares' units] will not be able to achieve the kind of returns they would like for their investors," said McIlvaine.
ASBC must manage its assets to support an expanding congregation and an array of ministries.
"We have to do what's in the best interest of the church, which includes our mission of affordable housing, but also staying economically viable," said James Garrett, a deacon and chair of the building committee at ASBC.
"In our real estate market it would be very likely that someone would allow these contracts to expire, and then they could demolish the buildings and do something else … and do very, very well," said McIlvaine. "So we're trying to incent them to redevelop as more dense affordable rental housing, and really mixed-income housing, including the committed affordable units."
The city has no stick to force the preservation of affordable housing, but it can offer increased density allowances as a carrot. The city would permit the owners to build bigger — namely, taller — buildings with more units, and thus to realize higher cash flow and property value potential. In exchange, the owners would commit to replace the existing affordable stock. While the details of such a tradeoff aren't yet ironed out, density would have to increase something like threefold.
For its part, the city government couldn't afford to subsidize or replace these 215 units wholly on its own. Doing so would cost $43-98 million over 20 years — a "prohibitive" amount that "would likely stifle all other city investment in affordable housing" for years, according to the draft plan.
"Here we have a chance to leverage private investment to bring back the housing and federal money to do the subsidy," said McIlvaine. "The city might still be coming up with some gap funding, but this really means the city can use its housing money" elsewhere.
Through the community process leading up to the present draft, some homeowners expressed reserves about increased density. In particular, some worried about safety along an already choked and disproportionately accident-prone traffic corridor.
However, "most people, once they understood the development economics and why we're doing this strategy, have been satisfied," said McIlvaine. "It is a tradeoff, but density can bring other amenities they want, like better open space, better traffic mitigation, more safety improvements," and "quality architecture."
To access the draft and associated materials, visit www.alexandriava.gov/Planning. The public hearing before the Planning Commission will take place at City Hall on Tuesday, Sept. 4, starting at 7 p.m. Residents may also email comments to PlanComm@alexandriava.gov. The public hearing before City Council will take place at City Hall on Saturday, Sept. 15, starting at 9:30 a.m.
The author represented the Alexandria Housing Affordability Advisory Committee during part of the draft's development process.