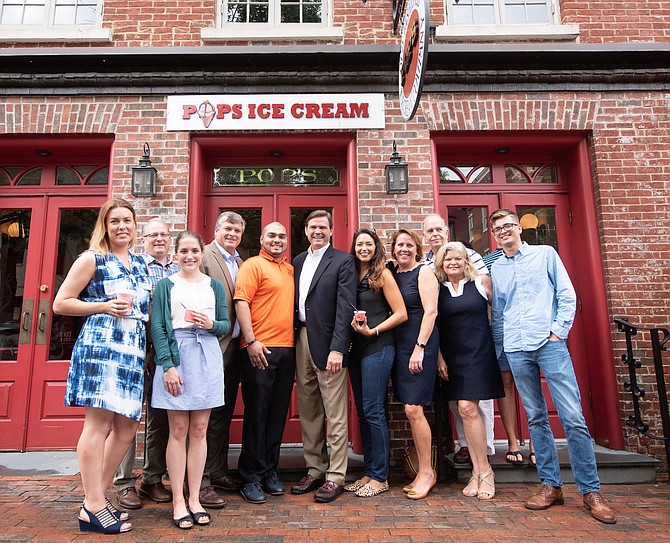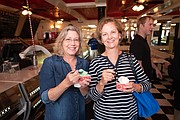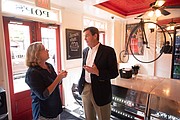 McEnearney Associates gathered on Wednesday, Aug. 22, to launch the first partnership of its #WeAreAlexandria campaign at Pop's Old Fashioned Ice Cream.
The #WeAreAlexandria campaign celebrates McEnearney's continued commitment to improving Alexandria through relationships in the community. Its #WeAreAlexandria campaign features a local business or organization that plays a significant role in Alexandria whether through preservation or community building.
The founder of Pop's Old Fashioned Ice Cream, Ray "Pop" Giovanni, was in the ice cream business since the 1940s with much of his early career spent catering events at the White House, including serving First Lady Eleanor Roosevelt her favorite ice cream.
Pop's is now owned by Landini Brothers, a local Alexandria business. Dave Hawkins, executive vice president and managing broker of the Alexandria office, said, "Pop's Ice Cream was the perfect place to launch the #WeAreAlexandria event. This place is a landmark in the local Alexandria business community, and is 'the' gathering place on a hot summer day. The purpose of the campaign is to support local businesses, like Pop's, and to preserve what truly makes our community special."
Supporting small businesses within the Alexandria community is an integral part of the #WeAreAlexandria campaign. Michael Day, managing broker of the Alexandria office, said, "Imagine Alexandria without the local restaurants, boutiques and coffee shops? Today, it's a bustling city and community. Visit the Old Town farmers market on a Saturday, and you will get a real sense of pride meeting with all the local artisans, farmers, and craftsmen. And, it never fails, you will always run into friends…this is Alexandria."

To learn more about the #WeAreAlexandria campaign, visit www.WeAreAlexandria.com.