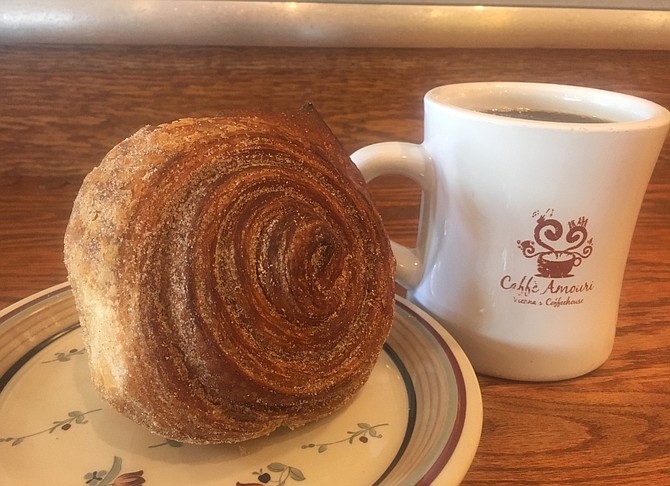 From the café table at Caffè Amouri facing Church Street, Mike Berning admits that he was once a dedicated Starbucks fan, but once he found Caffè Amouri, just a block from the Vienna Starbucks, he's become a regular. He and his wife Judy bring their grandchildren, buy their coffee beans there and sometimes walk the two miles to Caffè Amouri from their home in Vienna. "It's a smoother, richer coffee," he said.
That might be the secret, along with the shop's community involvement, the relaxed atmosphere, or the classic rock over the stereo that keeps the tables full at Caffè Amouri. Manager Kayla Moore started off as a barista just out of college and is now manager. "We do a lot of things to bring the community in," she said. That includes a weekly open mike night, dog biscuits for charity, or their participation in Viva Vienna Festival and the town's Oktoberfest. It doesn't hurt that they get their pastries fresh every morning from Cenan's Bakery around the corner.
Owner Michael Amouri is all about community, and looks at the business relationship as a partnership of sorts. "We ask the community to come in and support us and we, in turn, should be willing to give back to the community," he said. The Mission Statement of Caffè Amouri is: Quality, Community, Sustainability.
According to Amouri, "this statement was developed a couple of years before we opened our doors, and it has been the driving force behind everything that we've done and do; community is a key part," he said.
This feeling rubs off on the customers too. "I like the coffee, I like the vibe," said Cheryl Andrews who has been going to Caffè Amouri since it opened. "Feels like my era," she added, "a unique aspect of Vienna."
Penny University is another activity Caffè Amouri hosts, and is based on a tradition that started in London, Amouri said. This features classes or activities that don't involve eating or relaxing. For example, on Thursday, Sept. 13, there is a resumé writing class with Maureen Pappas of "Talent Strategy," and in July it was a singer/songwriter night with local musicians George Adamson and JR Rhine. Hiking and politics are other subjects they touched on this year.
Caffè Amouri is in the corner of a small shopping area that faces Church Street, with a few tables out front of their non-descript location. Inside the front door there is a main room with eight tables, the coffee counter, bar stools against a wall covered with record albums and an old-fashioned bean roaster. On Friday nights, they have a classic rock night where they break out the turntable, play some records off the wall or records that others bring in. The records feature music from John Denver, the Grateful Dead, Rolling Stones, Smokey Robinson and others.
An opening to the second room is across from the counter with bigger tables, an antique bar in the back and coffee posters on the wall.
Amouri is the Chairman of the Board at the Vienna Business Association and supports the idea of small businesses getting together to help each other and help the community.