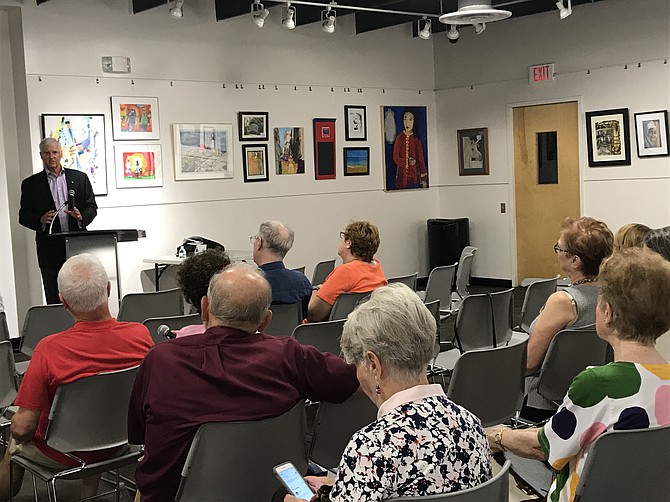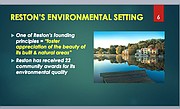 RASER 2017-SUMMARY
Air Quality - Good. Recommendations: Preserve the tree canopy, promote multi-modal transportation, encourage the placement of more electric cars and promote energy conservation.
Water Resources
Lakes and Ponds - Fair. They remain good for recreation, wildlife habitat and biodiversity but measured poor due to sediment accumulation leading to dredging and the presence of algal blooms and aquatic weeds. Recommendations: Continue monitoring, conduct fishery survey and educate the public about "cultural eutrophication" This is when nutrients, especially phosphorus and sediments, are flushed into the lakes after precipitation events. They accumulate and not only decrease lake depth but stimulate the production of algae over slower growing submerged aquatic plants.
Streams - Poor. Many streams are severely degraded, stormwater runoff is a primary threat and sediment transport affects lakes. However, restoration efforts are showing some improvement. Recommendations: Install monumented benchmarks (poles) in selected streams to measure water height from the ground level and explore collaborative fish survey.
Stormwater Management - Poor. Streams are disconnected from floodplains and improvement is limited to redevelopment and volunteer actions. Recommendations: Advocate repairing failing structures, preserving the tree canopy and advocating against stormwater mitigation waivers
Drinking Water - Good.
Vegetation
Tree Canopy- Fair. Invasive species and deer browsing impact it. Recommendations: Plant more trees that are native, manage deer, remove invasive and enforce the Design Review Board tree removal policy.
Meadows - Fair. They are targets for development. There are only 50 small transient meadows, and they require management. Recommendations: Encourage native tree plant landscaping not turf and educate residents and rate meadow quality.
Wetlands-Unrated. Recommendations: Request management of Sunrise Valley Park Wetland and explore partnering to inventory, classify and evaluate wetlands.
Wildlife
Birds - Fair. Habitat loss, cat kills and collisions. Recommendations: Protect natural areas, issue guidelines on outdoor cats; monitor bird-building collisions and reduce outdoor lighting during migration.
Mammals - Unknown. Recommendations: Partner with others to inventory, incorporate wildlife corridors in planning processes and raise awareness about the impact of outdoor cats.
Invertebrates - Unknown. Recommendations: Conduct a BioBlitz to inventory species; remove invasive plants and expand butterfly conservation.
Reptiles- Unknown. Recommendations: Coordinate a BioBlitz to inventory.
Other Issues
Management Issues - Fair. Recommendations: Continue current programs.
Hazardous & Toxic Wasters - Good. Recommendations: Complete storm drain markings and educate the public about the dangers of coal tar-based sealcoats.
Light Pollution - Fair. Guidelines do not address artificial light's effect on humans, plants and wildlife. Recommendations: Contract with a lighting specialist to develop new lighting guidance and eliminate unnecessary roadway lighting.
Educational Outreach - Good. Recommendations: Market and partner to engage more participants; revise materials; promote NatureHouse rental.
Hank Schonzeit lives in Reston. His primary focus is transportation and advocating for responsive traffic remediation. Yet, as a director on the Reston Citizens Association Board and President of the MidTown Reston Condominium, he is known for voicing the concerns of individuals who want to protect the vision of Bob Simon and the lifestyle of Reston.
Schonzeit, like many other Reston citizens, attended the Wednesday, Sept. 5 program, "Assessing the Environmental Quality of a Place Called Reston."
Reston Historic Trust & Museum hosted the event at the Lake Anne Reston Community Center. In his presentation, Doug Britt, the project leader of the first Reston Annual State of the Environment Report (RASER) produced by the Environmental Advisory Committee (EAC) as a tool for benchmarking the quality of the environment in Reston summarized the findings. Afterward, he highlighted new topics addressed in the 2018 update with progress on some of the recommendations that were put forward in the original 2017 report.
Out of the sixty 2017 RASER Recommendations, Britt identified that one year later, "Half are already being implemented to some extent and twenty-five might be accomplished with existing RA resources or through volunteer support." Britt emphasized that forty-five of the recommendations do not require any Board action and nine are policy related. "Only six require funding or contract," he remarked.
Britt said that the RASER 2018 working group is proposing new additions to the report. These will deal with wastewater treatment, solid waste, noise pollution, energy use, landscaping and urban agriculture, Biophilic Cities Network and a recommendation report card.
Britt pointed out that one of the recommendations proposed by the Environmental Advisory Committee in conjunction with the specific actions to advance environmental management was for Reston Association to apply to become a Biophilic City. RA applied and received official acceptance on March 22, 2018. Biophilic Cities are "cities of abundant nature in close proximity to large numbers of urbanites," according to the website of the same name.
A Q&A followed Britt's presentation. To view the full report, click here: Reston Annual State of the Environment Report