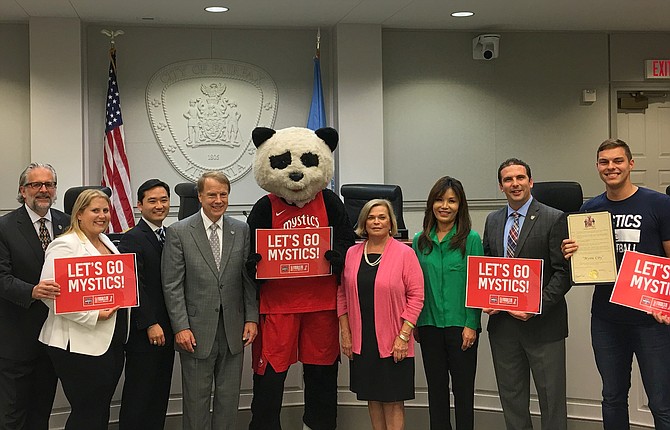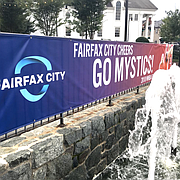 Fairfax City is celebrating the Washington Mystics as the women's basketball franchise vies for the WNBA Championship, this Friday night, Sept. 14, at GMU's EagleBank Arena.
"It's not every day you have a national championship in your town," said Acting City Manager David Hodgkins. "We love women's sports and this franchise, and we're thrilled that the game is literally in our backyard at George Mason. We want the City to get behind this team – it's so fun to watch."
At Tuesday night's City Council meeting, Mayor David Meyer proclaimed Fairfax "Mystic City" for the week of Sept. 10-16. And Mystics' mascot, Pax the Panda, was on hand for photo opportunities.
Also in the Mystics' honor, the fountains in Old Town Square are running "Mystics Red" all week, and fans may take pre-game selfies in front of the enormous Mystics banner there. And in celebration of the team's first-ever championship run, residents can take advantage of special deals at City restaurants, including The Auld Shebeen, Patriots Pub & Grill and P.J. Skidoos.