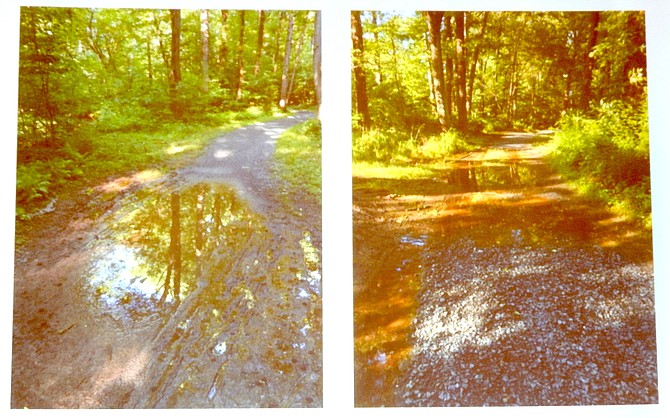 When the Fairfax County Park Authority held a public meeting about paving and making other improvements to the Rocky Run Stream Valley Trail, local residents listened to what Project Manager Liz Cronauer had to say. Then they weighed in.
What's planned are stream-crossing upgrades, plus paving of the gravel sections between Stringfellow Road and the Fairfax County Parkway. It's good news to some, but not everyone is happy about it.
Tom Nowicki, for example, said he preferred the trail remain gravel. "I came to Greenbriar because of this unpaved trail," he said. "As a runner, it's better for your knees to be on gravel than on asphalt or concrete. Maybe if you dredged the stream and improved the flow, it wouldn't flood and you wouldn't have to pave the trail. My son bikes to school and I run in the rain on the mud – and that's part of the fun."
However, Fergal King, who's also a runner, said he's excited about a paved trail. "When it rains, it's frustrating to run in a mud pit," he said. "And it's impossible for moms and strollers."
Sue Marcus wondered what's the purpose of this trail in the community – for transit or relaxation? "What about the environmental impacts on the park and its native denizens and the terrestrial and stream animals," she asked. "And are there plans for flooding runoff?"
"We take all these things in account when designing and planning park trails," answered Cronauer. "It's already an impervious trail, so the water doesn't percolate down. So adding asphalt makes the trail stay in one place, without the erosion into the surrounding forest. And we have just as many animals in the parks with asphalt trails as with gravel trails."
Once this project is done, asked Michael Stone, "Is it possible to dredge out all the gravel in the stream?"
Paul Shirey, branch manager of the Park Authority's Project Management section, replied that the county has a plan to do things such as that."
"And [that trail is] an essential travel route for people who don't want to be in cars, so I thank the Park Authority," continued Stone. "But consider widening the trail at the bollard spots to make it easier for kids on bikes to get around them."
In response, Cronauer said those bollards will eventually be removed.
Karen Schofield said, "Between Middle Ridge Drive and the parkway, there are truckloads of gravel and big, metal pipes – and I hope they'll take out the big rocks there."
Shirey said that would be more of a stream-restoration program, and Supervisor Pat Herrity (R-Springfield) said the county has a list of such projects. And, added Herrity, "Possibly they could help, even temporarily, to take out some of the gravel while they're already in there with heavy equipment."
Meanwhile, Tara Kawasaki asked about the durability of an asphalt trail. "We've gotten a pretty good handle on where we should put asphalt vs. concrete to create a durable trail," replied Cronauer.
Furthermore, she said, "The nasty runoff from asphalt roads comes from cars and oil. In the stream valley, we have bikes and people's feet. We also have naturalists that advise us about what's good and bad. And they're on board with our paving trails that need to be stabilized in areas that are a muddy mess."
Agreeing with the plan, Bill Collins decried the current conditions of the trail after a heavy rain. "I'm a firm supporter of paving the trail," he said. "I think the benefits will far outweigh any negatives."
Also pleased was Sharon Grogan. "The trail is the quickest way from my house to the Greenbriar pool, park and Greenbriar East Elementary, where my child's a first-grader," she said. "And the stroller is a necessity for me for my 1-year-old, and we can't use the trail after a rainstorm."
So, she said, "A paved trail would be such a better experience for me. And then my 4- and 6-year-olds will be able to ride their bikes on that paved trail, instead of on the sidewalk with cars going by."
But Jenny Haskins said she prefers things "natural, in this heavily-built-up area. What about drainage and erosion further down? I'm concerned about increasing the water flow. And what about a boardwalk?"
Shirey said an asphalt pavement wouldn't increase the runoff. And Cronauer said a boardwalk is more expensive to build and maintain. "It's used more to get to a very special place, such as in Huntley Meadows Park [in Alexandria]," she said.
Another female resident said she's happy the trail will be paved because it will enable her to "get to look around and see things [while being on it], instead of always looking down to see where I'm walking." She then asked how long the trail would be unavailable for use during construction.
"The contractors would only close the trail section they're working on," answered Cronauer. "We try and do it in segments and post signs, plus information on our website, ahead of time, so people will know when a part of it is unavailable."
Noting that she's a dogwalker, Donna Reed said she therefore uses the trails a great deal. And she wanted to know what the top portion of the bridge would be made of. Project Manager Tom McFarland said it will be a 10-foot-wide, steel, pedestrian bridge with a wood deck."
Toward the end of the meeting, Herrity told those attending that all their comments are valuable and important. "In meetings like this, the professionals learn things that they didn't know about because you live here," he said. "And your feedback and comments make it a better project."
One of the last residents to speak was Jeff Goodell. "I'm a strong supporter of the paved trail," he said. "I'm a runner, and my 5-year-old daughter wants to ride her bike alongside me, but can't now, because it's too dangerous. So thank you for doing this."