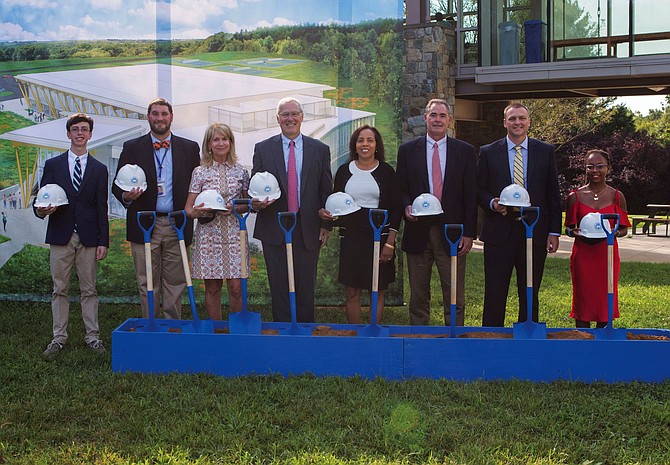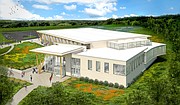 Rain was in the forecast for Sept. 7, the first Friday of the new academic year at The Potomac School, but sunny skies prevailed, allowing the school's traditional Opening Assembly to be held outdoors as planned.
The annual ceremony includes a procession of seniors and kindergartners, remarks of welcome, and the presentation of Potomac's Excellent Teaching Award. This year, something special and entirely new was added to these traditions: a ceremonial groundbreaking for the school's Center for Athletics and Community.
Technically, the ground at the construction site was broken before the school year began, with site preparation having gotten underway in July. But with the students back on campus, this was the first opportunity for the Potomac community to celebrate this milestone moment together. Head of School John Kowalik notes, "This new building is for the benefit of our students, and we want them to be informed and excited about it. So we decided to hold our groundbreaking at a time and place where the students could be part of the fun." And fun it was, with all the members of the Potomac School community donning white construction hats and the school's mascot, the Potomac Panther, distributing the ceremonial shovels and high-fiving the groundbreakers as they prepared to turn over dirt that had been trucked in from the construction site.
POTOMAC SCHOOL'S 76,500-square-foot Center for Athletics and Community will include a gymnasium with one competition basketball court and three practice courts; an indoor jogging track; seven squash courts; a weight room, cardio room, and multipurpose activity room; and flexible gathering spaces. In combination with the school's existing facilities, the center will support a robust athletics program that fields teams in 26 interscholastic sports. In addition, the new facility will meet the school's need for an indoor gathering space large enough to accommodate the entire Potomac School community.
John Kowalik explains, "Potomac is committed to being a connected community, and we have events throughout the academic year that are designed to bring our entire K-12 community together. With 1,050 students plus faculty and staff – and, for some events, parents -- we do not have an interior space large enough to accommodate everyone. We can hold certain events outdoors; but when the weather fails to cooperate, we have to move into our current gym and decide whom to exclude. Not a happy decision – and one that we will no longer have to face when the new center comes on line."
He adds, "The limitations of our current athletic facilities also affect scheduling, negatively impacting both athletics and academics. The new center will give us increased flexibility and be an important asset for our overall program."