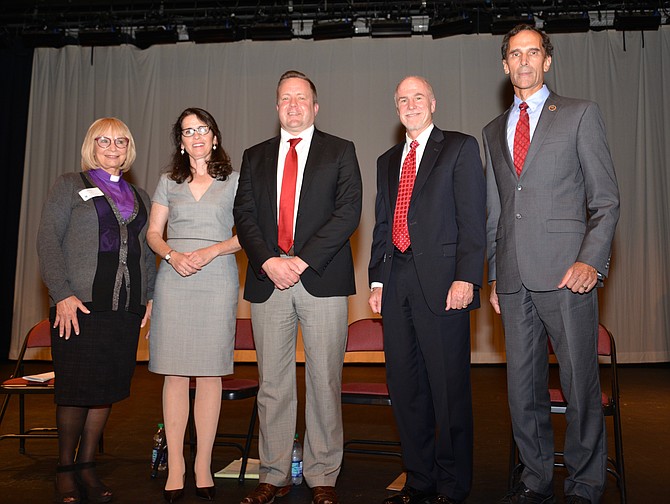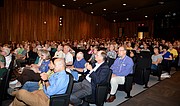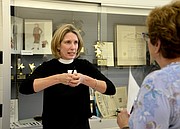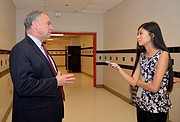 Billed as a public forum to focus on the effects of climate change on Virginia and what actions Virginians can take to combat the situation, the Virginia Climate Crisis Forum played out more like a debate between the two candidates seeking to represent the Commonwealth in the United States Senate in the Nov. 6 elections. The contrast was clear, even though Democratic incumbent Tim Kaine and his Republican challenger, Corey Stewart, the chairman of the Prince William County Board of Supervisors, were never on stage at the same time.
The packed house in the auditorium on Sept. 18 at James Madison High School in Vienna, didn't seem to mind. Faith Alliance for Climate Solutions organized the event.
"We need to know where these two stand and what they plan to do about climate and environmental issues," was the opinion of two retirees who braved the traffic from Springfield to attend the event.
There was a three-person panel of experts bringing the perspectives of health, national security and local government to the discussion.
Samantha Ahdoot, MD, is a pediatrician and co-founder of Virginia Clinicians for Climate Action. Ahdoot shared statistics and personal experience about the effects of pollution, hotter summers, and worsening allergy seasons on her young patients, and on the elderly and more vulnerable.
"A bold vision for de-carbonization will ensure a healthy future for Virginia's children with clean air and a stable climate," said Ahdoot.
Major General Rick Devereaux, USAF (Ret.) opened a few eyes on how climate change effects national security and the preparedness of the American military to cope with those threats.
"Climate change threatens our national security in a number of ways," said Devereaux, noting that extreme changes in climate lead to economic and cultural instabilities. "More risk of conflict, more refugees fleeing environments growing more and more inhospitable." Devereaux sees that one effect as rocking an already shaky world stage, and "placing humanitarian demands on our overtaxed military forces."
Devereaux applauded the military's move toward biofuels and away from gasoline, saying that one of the most dangerous missions for military personnel is the movement of highly flammable fuels in combat zones.
Rising sea levels are direct, physical threats to military installations, Devereaux said. "There's some 1,700 [military installations] on coast lines, and many have already been subject to flooding" even without the influence of major storms like Hurricane Florence.
The third panel member, Fairfax County Supervisor Dan Storck (D-Mount Vernon) addressed the issues from a local government level. The area that Storck represents "contains many waterways and various industrial sites that combine to create unique risks and challenges," and has also been subject to flooding and other environmental damage.
Storck emphasized the need to "take immediate action" to protect "People, Places, and Property."
THE PANELISTS posed questions to the two senatorial candidates from their individual perspectives and areas of knowledge and concern, led by moderator Rev. Dr. Jean Wright, a co-founder of Faith Alliance for Climate Solutions.
Kaine wasted no time differentiating himself from his opponent and from the Trump Administration.
"Before we talk about solutions," said Kaine, "we have to all accept that man-made climate change is real," not the "hoax" that Kaine reminded the audience was the President's often-stated opinion on the issue. "Both [Trump and Stewart] have used that word."
Kaine supports the science of climate change and says that overall, so does Congress. He relates that he sees the effects of climate change every day.
"This is not a tomorrow issue in Virginia. It's an issue for today."
Stewart began his remarks by saying to the climate-conscious audience that "perhaps we won't agree on much, but all I am asking for is an open mind, and I will have an open mind, as well."
Stewart readily admits that the climate has changed significantly in recent years, but he does not see that as being primarily "caused by man," and that he does not believe "man can change that." His assertion brought shouts and boos from the crowd, and had moderator Wright calling for civility and respect.
The contrasts between the two men continued as they answered the questions of the moderator and the panelists.
On the subject of constructing additional pipelines in Virginia, Kaine thought that the process to permit such construction was flawed and needed to be addressed at the Federal level.
"I'm not saying I would never be in favor of a new pipeline," Kaine said, but that the question first needed to be asked if a pipeline was truly needed, and then to proceed with an investigatory process to assess impact and to allow for "real citizen input," rather than token outreach.
Reliance on green energy solutions would "increase the costs of power, cost jobs" and make the country less secure, while having little impact on the negatives associated with climate change, Stewart said.
Stewart's answers throughout the forum strongly defended the coal industry. Expressing his agreement with the President's decision to pull out of the Paris Climate Accord, Stewart said that shutting down the coal industry or imposing "burdensome" environmental regulations on businesses would just move the problem to countries like China and India where there would be less-regulation and more harmful effects.
"Again," he said, "losing jobs at home and not solving anything."
Major General Devereaux responded that by leaving the Paris Accord "what we ceded is moral leadership. … It diminishes our moral authority and national security." If there are problems with the pact – which Devereaux acknowledged there are several – then it was the role of leaders to stay at the table and work the problem, rather than be "absent."
KAINE said that he supports eliminating tax credits and subsidies for carbon energy producers and other industries.
"It's time for us to stop picking the winners and losers," he said, and invest that money more wisely. Kaine disagrees with Stewart that "green solutions" would cause devastating job losses, citing studies and examples where more, better-paying and more sustainable employment is associated with green energy industries, technology and research.
The Faith Alliance for Climate Solutions was founded in 2013 and has grown to represent more than 70 congregations in Northern Virginia. Visit www.faithforclimate.org for more information.