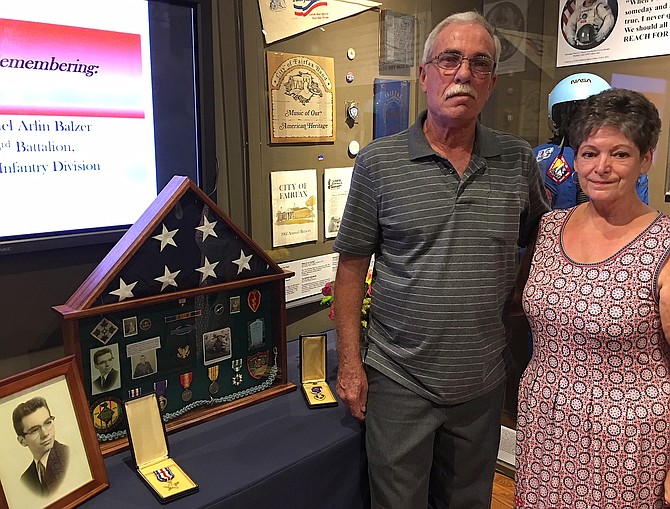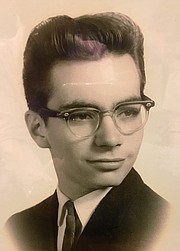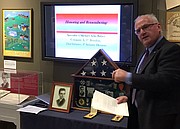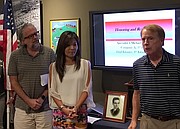 While serving in the Army in Vietnam, 1963 Fairfax High grad Michael Balzer wrote letters to his high-school friend, Robert Lucas. On March 6, 1967, Specialist 4 Balzer told him about a buddy's death and his upcoming combat mission.
Eagerly counting the days until his tour of duty in Vietnam would be over, he wrote, "Only 200 days to go!" Just 15 days later, Balzer was killed in action.
Lucas later donated that letter, plus Balzer's first letter to him, to the Fairfax City Museum. And on Sept. 6, Balzer's family donated his medals – including the Silver Star and Purple Heart, awarded posthumously – to the Fairfax City Museum.
The event coincided with the annual reunion of the survivors of Co. A, 3rd Battalion, 22nd Infantry ('66-'67), in Washington, D.C., so many of his former brothers in arms attended the presentation. Also there were Fairfax City Mayor David Meyer, plus City Council and School Board members and some members of Balzer's high-school class.
"Specialist Balzer gave his life for his country on March 21, 1967," said Meyer. "A machine gunner with Co. A, 22nd Infantry, 4th Infantry Division, he was killed when a Viet Cong regiment attacked their bunker. And this morning, we went to Michael's grave at Arlington and had a remembrance for him."
Meyer noted that Balzer received the Silver Star for his "extraordinary heroism during combat." His name is engraved on panel 16E, row 128, of the Vietnam Veterans Memorial in Washington, D.C. Balzer was the second Fairfax High grad to die in Vietnam. Warrant Officer Robert Thruston III, a helicopter pilot and class of 1959 graduate, was killed in 1964.
BALZER WAS JUST 22 when he died; his commanding officer, Jack Sweeney – who was 25 then – came to Fairfax for the ceremony at the museum. "I was his platoon leader and lieutenant in Vietnam, and he and his peer group were an extraordinary bunch," said Sweeney. "Those who survived Vietnam will never forget their experience. And for all time, Balzer is recognized as a hero and a patriot."
Saying Balzer was killed while he and others held off the enemy, Sweeney quoted John 15:13, "Greater love hath no man than this, that a man lay down his life for his friends." Choking up, Sweeney said, "I had to write the letter home to his parents that said, at 22 years, 2 months and 14 days, he got killed. I also wrote the Silver Star recommendation for him."
In that letter, Sweeney wrote that Balzer did his best during training at Fort Lewis, Wash., and in Vietnam, "He gave his all. I knew your son well; the respect and confidence I had in him was excelled by no man."

Sweeney said that, when the Viet Cong attacked, Balzer and his fellow soldiers were protecting the artillery unit which was supporting other infantry units. "Mike was a brave man who conquered his fears to face a mission all of us dread," he wrote. "Mike was a part of us and his life will not have been spent in vain."
The local museum now contains a shadowbox filled with Balzer's military awards and funeral flag. Inside are his Silver Star; Purple Heart; National Defense, Vietnam Service and Infantry medals; Presidential Unit Citation with Bronze Cluster; Vietnamese Gallantry Award with Palm; and Combat Infantryman's Badge and cord.
Also included is a special Alpha Gators patch, created by members of his company, showing an armed alligator trudging through mud. Sweeney explained, "It's because we were in Alpha [A] Co. walking around in a swamp and we felt like alligators."
Balzer's brother Kim was at the ceremony with his wife Debbie. She said their father died 30 years ago, and their mother, nine years ago, "as did other family members, so we've had a lot of grief." Kim was just 9 when Michael died, and their sister Sharon was 11. Debbie said Michael was a "devoted brother and son," but "the family's grief became so sacred that they couldn't speak of it."
Then a bagpiper played "Amazing Grace," as many of the attendees wiped away tears. After the event, some of those present shared their memories of Balzer. Co. A had about 180 people, and among them was Gary McLaughlin. "I served with Mike, and he was never in trouble," said McLaughlin. "This ceremony means everything."
"We only lost 11 guys out of our company because we all trained together," he continued. "We knew we could depend on each other. Mike was a machine gunner, and during the Battle of Suoi Tre, our company and another company formed a circle around the artillery. But the Vietnamese overran us and that's when he got shot. We were all kind of numb – but we always remembered."
Bill Scott went to high school with Balzer, in the class of '63. "He was a nice fellow," said Scott. "I've visited his panel at the Vietnam memorial. It's good that he's recognized and that there's something honoring him at this museum."
DEBBIE RECALLED how Page Johnson, with Historic Fairfax City, visited them in 2008 to interview her and Kim for an article he was writing about Fairfax residents who'd died in Vietnam. It was published in the spring 2009 issue of "The Fare Facs Gazette," right before Balzer's mother died.
Regarding the event at the museum and the many people who attended it in Balzer's memory, Debbie said, "It's overwhelming – it's been 51 years since his death. He must have been a hero to those he served with."