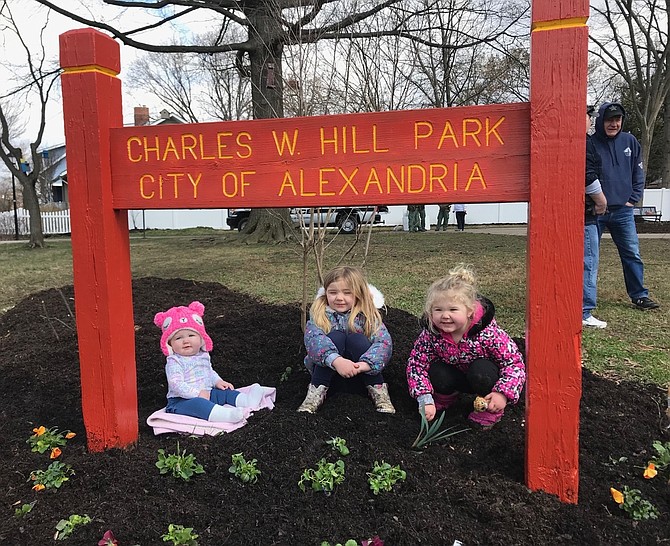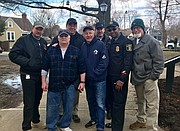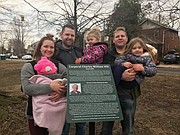 Employees, family members and friends of the Alexandria Police Department gathered March 22 at Charles W. Hill Park in Del Ray for a community park clean-up, and to honor the memory of Corporal Charles Hill, the last APD officer to be killed in the line of duty on that date 30 years ago.
"When one makes the eternal sacrifice for the protection of Alexandria citizens, that sacrifice is never forgotten, even 30 years later," said APD retiree John Crawford.
In the late afternoon of March 22, 1989, Hill was partnered with Officer Andrew Chelchowski when the Special Operations Team was called to the 300 block of Hopkins Court. An escapee from a Washington, D.C., halfway house had taken hostages inside a home to collect a drug debt.
While on the scene, the suspect exited the house with a shotgun pointed at the hostage's head. A police sniper fired at the suspect and hit him in the heart. Before he died, the suspect was able to open fire, killing Hill and wounding Chelchowski. Chelchowski committed suicide in 1993 after battling the stress from the incident four years earlier.
"As we came together to commemorate the 30th year of the Hopkins/Tancil Court shooting, it was good to see so many who were there on the day of such a horrific event to pay tribute to Charlie and Andy," said APD Capt. Don Hayes. "It was special to see them working with those who now stand where they once stood and willing to give the ultimate sacrifice as they take their place on the SOT team."
Hill's two sons, Charles Jr. and Robert, now an APD officer, participated in the community day along with Hill's granddaughters Eleanor, Laila and Audrey.
"Thirty years? I can't believe it," wrote retired officer William Bunney on the Officer Down Memorial Page. "Seems like yesterday when I saw you at HQ on your way out to that hostage scene. That horrible day, and the day that Andy was taken from us, really changed me forever. Your kindness and professionalism shaped me as a police officer and I am forever grateful. Rest in Peace my friend."
Hill had served with the Alexandria Police Department for 13 years and the park in Del Ray was later named in his memory.