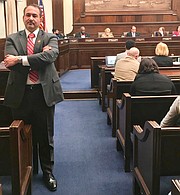 In a 5-2 vote, City Council approved on Tuesday, March 26, a controversial halal butchery that would house and slaughter live poultry on site.
Vice-Mayor Elizabeth Bennett-Parker and Councilwoman Amy Jackson voted against. Councilwoman Redella "Del" Pepper voted in favor, but reluctantly, saying: "It wasn't the land use I had hoped for," but "it appears that there is not a legal leg to stand on" to deny it.
DC Poultry Market Corporation applied for a Special Use Permit to use the industrial building at 3225 Colvin St., in south central Alexandria near Duke Street, as a halal poultry slaughterhouse. Halal, an Arabic word from the Quran, means lawful or permissible. Customers would select live chickens for a butcher to slaughter on the spot and in keeping with Islamic law.
"Ritual slaughter … [is] required for domestic cattle, sheep, goats, and fowl, which must be killed in God's name by making a fatal incision across the throat," according to the Oxford Dictionary of Islam.
With its throat slit, a chicken would bleed to death after about a minute, according to Abdulsalem Mused, DC Poultry's owner.
In addition to parking and traffic concerns common to many development decisions, a number of residents objected on grounds of animal welfare.
Some attending Tuesday's legislative meeting carried signs quoting the City Charter, which empowers council "to prevent cruelty to and abuse of animals," among other things.
At the March 16 council public hearing, Ellen Epstein, who runs a dog-walking business, said, "We really have a reputation and a community built around our dogs." She cited Visit Alexandria's marketing web site, which says: "It's no secret that Alexandrians love their pets. In fact, one out of every four Alexandria residents is a dog!" Epstein estimates that means Alexandria is home to nearly 40,000 dogs — "a huge amount of business going to the [pet-related establishments] that are already in the area."
Kevin Gilliam, who owns Frolick Dogs, a "canine sports club," listed five pet-related businesses, including his own, within two blocks of the butchery location.
"Opposition is not about religion, anti-Muslim or Islamaphobic [sentiments]. It's about land use and … protecting Alexandria's existing small businesses," said Sandy Modell, who owns Wholistic Hound Academy. "This may be an industrial zone, but permitted uses have brought a number of family- and dog-friendly establishments that have changed the nature and character of this area in the last 2-5 years. … I may be phobic, but it's I-can't-afford-to-lose-business-phobic. … Our businesses will close. We cannot operate in the shadow of a slaughterhouse."
Residents in opposition also expressed concerns about the congruity of a slaughterhouse in an urban area, odors, trash removal and disease risk.
City staff and some council members concluded the butchery's plan meets or exceeds the industrial zone's legal requirements, and that certain concerns and risks are sufficiently mitigated or overstated.
While current zoning requires the site in question to maintain two parking spaces, DC Poultry Market would provide four.
The Virginia Department of Agriculture and Consumer Services will conduct bi-monthly inspections, according to planning and zoning's Chrishaun Smith. The USDA will also conduct inspections every three months.
The health department "found no evidence that live or dead chickens would adversely affect the health of animals or persons in the surrounding area," said Councilman Mohamed "Mo" Seifeldein.
Bennett-Parker thought otherwise. She said she spoke to neighbors of DC Poultry sister establishments in seven other locations nationwide. She personally visited an eighth in Philadelphia over the weekend.
"Only one person I spoke to did not cite any impacts, and his business is located … more than a block away," she said. Among other things, neighboring businesses told her that "animals have escaped, it is smelly and it attracts rodents."
"I also went to two halal markets [Afghan Market and Fair Price International Supermarket] within the City of Alexandria, where I observed chickens for sale with prices starting at $1.99 per pound," she added.
Councilwoman Amy Jackson also dissented, saying that parking and traffic impacts, including from non-Alexandrians traveling to the new business, haven't been sufficiently studied.
While council didn't stray far from technical considerations, the case also skirted religious territory.
"I'm tired of going to Warrenton or Haymarket to purchase halal meat," said Ali Abjabyali, an Alexandria resident. Those locations are about a two-hour round trip from Alexandria, without traffic.
"We have been forced to do our own slaughter at our own homes simply because no services like this has been available in our communities," said Tahzib Bacchus at the public hearing, though he lives in Falls Church.
Some opponents thought council's consideration should pertain only to land use and not to religion. But Seifeldein expressed concern that disapproving the halal business might violate the Religious Land Use and Institutionalized Persons Act of 2000. This federal law prohibits any "land use regulation … that imposes a substantial burden on the religious exercise of a person, including a religious assembly or institution."
Jeff Reid, who spoke in favor of the halal butchery, speculated that the Supreme Court's 2014 decision in Burwell v. Hobby Lobby Stores, Inc. might apply. Among other things, the Court's decision upheld for-profit corporations' legal personhood, including to the free religious exercise.
Councilman Canek Aguirre said he received an email calling the manner of slaughter an "antiquated practice."
Pepper instructed staff to "share with our Muslim friends and neighbors that we welcome them in this community."