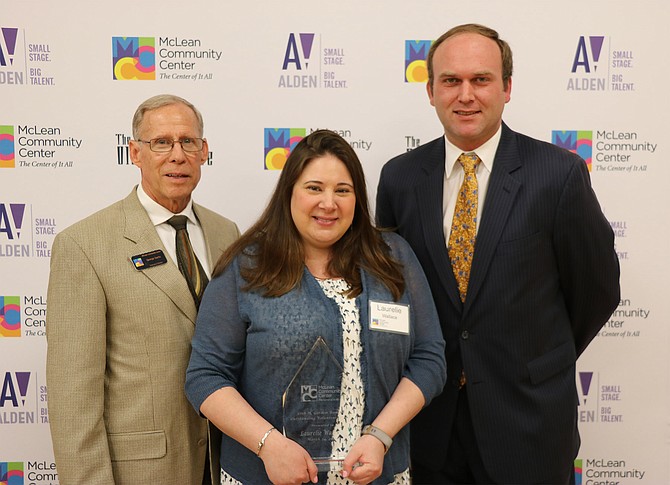 The McLean Community Center (MCC) has awarded its top honor for volunteers, the H. Gordon Randall Outstanding Volunteer Service Award for 2018, to former MCC Governing Board Chair Laurelie Wallace. The award was presented at the Center's annual Volunteer Appreciation Luncheon on Sunday, March 24. The center is located at 1234 Ingleside Ave.
Wallace served two terms (six years) on the MCC Governing Board, where she provided leadership and support to Center programs and services by working on and chairing several board committees. During the two years she served as chair (2016-2018), the center began the renovation project that required staff to vacate the facility and relocate programs and services in the community for a period of 22 months. According to MCC Executive Director George Sachs, "Laurelie led our board through this difficult and turbulent time by conducting and attending countless meetings — keeping everyone informed along the way. Her support of the staff and our efforts to continue to serve our residents in community-based facilities was greatly appreciated by all involved."
Wallace, who also has volunteered with animal rescue organizations and SOME (So Others Might Eat), grew up in McLean and attended programs and events at MCC and The Alden. She was one of the first members of The Old Firehouse when it opened in 1975.
In her remarks, she said, "To be able to give back to a community that gave me so much as a kid and a teen in a place that has always been my home—nothing compares to it."
For more information, call the Center at 703-790-0123, TTY: 711, or visit: https://bit.ly/2JMLhZp.