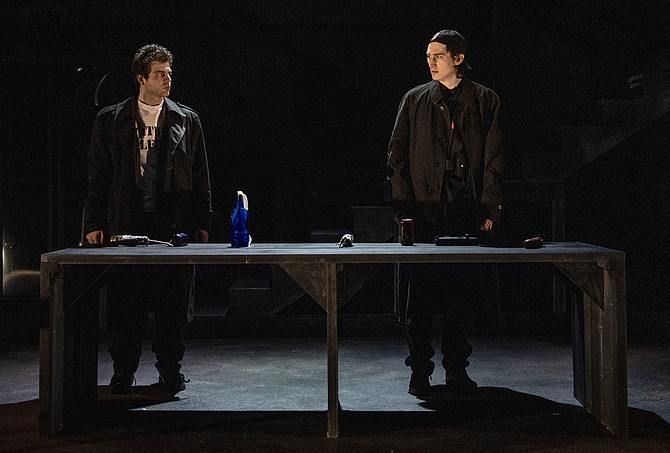 There is palpable rage in the all too disquieting, yet mesmerizing, 1st Stage docudrama production of "columbinus" written by Stephen Karam and PJ Paparelli. First staged in 2005, "columbinus" combines fact and fiction into unforgiving dramatic theatrical imagination that slowly recounts the 1999 mass shooting at Columbine High School in Littleton, Colo. The 1st Stage production coincides with the 20th anniversary of the 1999 events.
Playwrights Karam and Paparelli stitched together excerpts from real interviews with parents, survivors and community leaders as well as personal diaries and other relevant items to explore the Columbine shootings. Before focusing on the Columbine events, the playwrights provide a more general sense of contemporary teen life and cliques in any American high school in the first act. In act two, the play pivots into the Columbine shootings that took the lives of twelve student, one teacher and wounded more than 20 others before the two perpetrators, Dylan Klebold and Eric Harris committed suicide. The production has a coda in which the cast members become survivors and townspeople who reflect on the events.
The outstanding cast includes a believably cold-eyed, intimating, easily irritated Rocky Nunzio as the Alpha-male Eric Harris and an edgy, nervous, moody Patrick Joy as Dylan Klebold. They are joined by Jennie Bissell, Brett Cassidy, Thais Menendez, Joe Mucciolo, Jonathan Del Palmer, and Alex Reeves who give bravura performances as high school students in a situation they could never have expected when they woke up in the morning to go to school.
The 1st State design team includes a masterful scenic design by Kathryn Kawecki that is never static as the cast members move pieces of furniture into any number of configurations. The sound design by Kenny Neal is a wonder of percussive music, but of sounds that accompany the thinking of character. Projection design by Robbie Hayes left me speechless at the show's conclusion.
"columbinus" is not an easy show to watch, given its utterly realistic feel and the production's ensemble of actors who dare the audience to look away. Don't turn away from the opportunity to see it and react to it. "columbinus" offers no easy answers to gun violence in schools or anywhere. Rather, the 1st Stage production directed by Juan Francisco Villa and Alex Levy provides the chance to have conversations about that particular shooting and those that have followed to this very day.
Where and When
1st Stage presents "columbinus" at 1524 Spring Hill Rd, Tysons. Performances to April 20, 2019. Thursdays: 7:30 p.m., Fridays: 8 p.m., Saturdays: 2 p.m. & 8 p.m. and Sundays at 2 p.m. Tickets: General Admission $39, Senior (65+) $36, Student $15, Military $15. Call 703-865-1856 or visit www.1stStagetysons.org
Note: 1st Stage provides general admission for all productions. Wheelchair accessible.