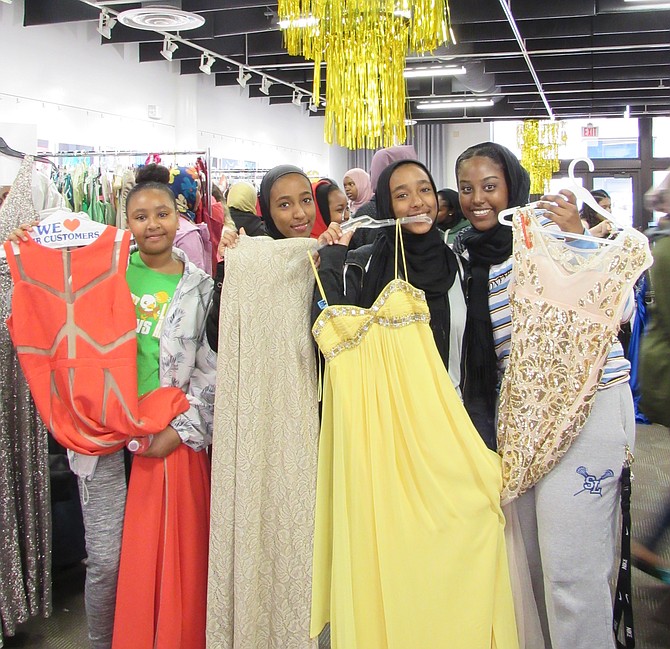 "I'm looking for a dress with bling yet elegance," said Raghad Salih, 16, of South Lakes High School. Salih and her friends stood in the Jo Ann Rose Gallery located at Lake Anne Plaza. Staff and volunteers from Reston Community Center had turned the art gallery into an upscale prom and special occasion boutique for the 17th Annual Diva Central event held Saturday, March 30 from 11 a.m. to 3 p.m.

Surrounded by an inventory of glamorous formal gowns and dresses current with today's trends and accessories, the young women were students at South Lakes High School and Langston Hughes Middle School. Excitedly, they searched the rows of gowns, each saying yes to a dress.
"We fill a need in the community by offering students the opportunities to receive quality dresses and accessories at no charge," said LaTanja Jones, Collaboration and Outreach Director, Reston Community Center. According to RCC, it opened the one-day shopping opportunity to any current middle or high school student in need of a formal dress, shoes, jewelry or other accessories. RCC offered everything for free, Jones said, however, there was a limit of one outfit per student.
Hundreds of dream dresses for the eighth-grade dance, high school prom, graduation, after party and social occasions hung by size on display racks in the gallery. Dress styles ranged from ball gowns and jumpsuits to A-line, mermaid, single shoulder, strapless, plus size, two-piece dresses and more.

Marafi Osman, 12, from Langston Hughes Middle School, browsed for a dress to fit her taste and need as did her South Lakes High School friends Rzan and Rzaz Ali, 15, and Raghad Salih 16. The girls searched through silky chiffons and beaded designer gowns in an assortment of colors, back styles and necklines.
In addition to the stunning dresses, Diva Central offered shoes, heels, jewelry and accessories to finalize the look and to make the shopping stress-free.
Volunteers stood ready to assist the students with personal attention so they would walk in confidence at their upcoming special event. Volunteer David Jones of Reston said, "I've been volunteering here for the past three years. I enjoy giving back to the community I live in.
"We thank the community for their generous support for this year's event," said Jones. "RCC will host the 18th annual Diva Dress Central Drive and Giveaway event next Feb. 1-28, 2020," she said. Jones asked that individuals consider setting aside gently used formal wear and accessories for the rest of this year and bring them to the Lake Anne or Hunters Woods Community Center next year.