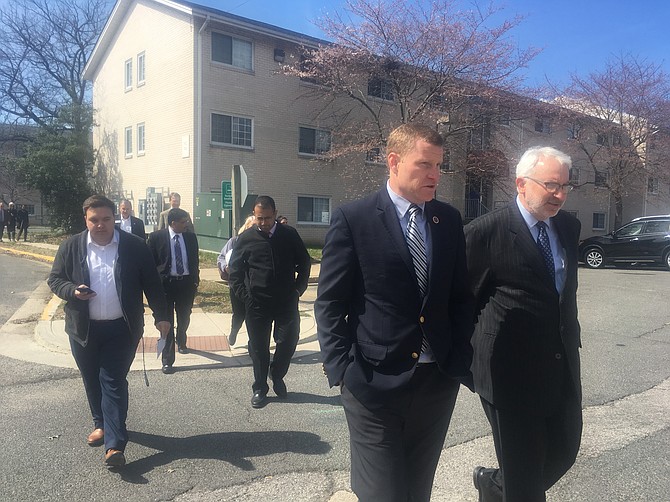 The Murraygate Village Apartments in the Hybla Valley-Gum Springs area are one of the few affordable apartments left in the area. In keeping with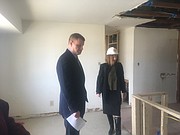 the Embark project that encompasses much of the Richmond Highway area in Fairfax County, a renovation project is underway to upgrade and maintain the property.
"It's overdue," said Supervisor Jeff McKay (Lee-D). "This is the type of preservation we can encourage other properties to go through," he said.
In the early 1990s, when McKay was growing up around the corner, Murraygate Village fell into disrepair. It was plagued by drug trafficking and crime before Fairfax County bought it and renovated it in 1994. It now serves households at or below 60 percent of the area median income, which is $58,000 or $70,000 for a family of four.
The renovation is addressing everything on the inside of the individual apartments, primarily focusing on the kitchen and bathrooms. When first built in 1971, the kitchens were enclosed, making it difficult for parents to monitor young children. This is a common set up in many older apartments, and the renovation includes taking out part of the wall between the kitchen and living room, adding new counters, cabinets, sinks and a dishwasher that was not included in the first renovation. They are getting individual electricity boxes as well so each apartment will be responsible for that utility.
"We are opening up the kitchen area," said Regina Gerner at the Fairfax County Department of Housing.
There are 200 apartments in Murraygate Village and the renovation is being done in seven phases. The families will be moved out to another apartment or another location before being moved back when the work is done. The project is scheduled to be completed in 2020.
Security will be part of the upgrades. Currently the doors to the buildings lock and can only be opened with an ID/Key or from a resident inside, but this system needs to be replaced too. "They don't work," said Judy Niles, the occupancy manager, "some of them are so old," she added.
Embark is a project that was launched a few years ago by Supervisors McKay and Dan Storck (D-Mount Vernon) to "create a multimodal future for Richmond Highway where residents, workers and visitors can walk, bike or drive to the places they want to go," according to county information. Although there is an emphasis on transportation, upgrading aging buildings and affordable housing is part of the larger Embark picture.
Tom Fleetwood, the Fairfax County director of the Department of Housing was at the tour as well. "Preserving existing affordable housing is consistent with the goals of Embark," he said.