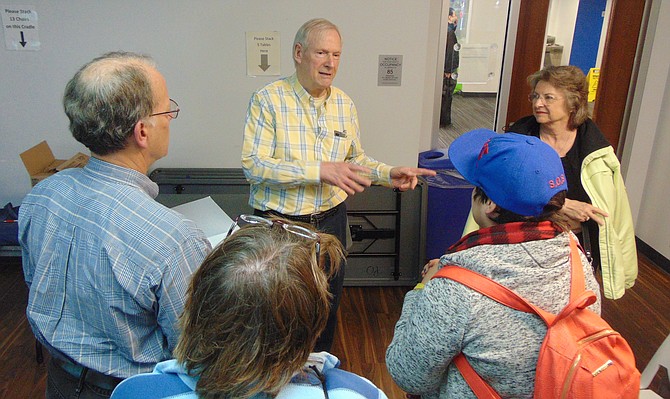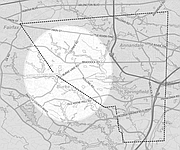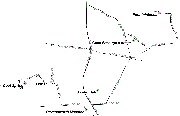 Last Sunday, March 31, the Burke Historical Society hosted historian John Browne at the Pohick Regional Library where he spoke to about 50 guests about his new book, The Story of Ravensworth – from the period of 1685 to the Civil War.
"It fascinated me that my home was inside a vast Colonial Plantation and I wondered how 24,000 acres dissolved down to one quarter of an acre…so I decided I wanted to know more about it. How did it dissolve all the way down to that? It seemed to be a fascinating question and I started digging into it," said Browne, who grew up on a dairy farm in New York, served in the U.S. Navy, and worked for 30 years with the Department of the Navy.
He was inspired by the work of Beth Mitchell, who mapped every land grant that had been done in Fairfax County – all 390 square miles. "I started looking and pulling the thread and one bit after another, I got pulled down the drain, as my wife would say," he said.
Browne, who is now retired, started researching Ravensworth in 2008, and set up a private website, which went public in 2013. After about 24,000 visitors, he decided he wanted something more permanent. He expected the book to be a quick and easy job but it took him about a year to recreate new maps and fit them onto 8 ½ by 11 pages.
THE RAVENSWORTH STORY goes like this: Before 1685, a land grant of 5 million acres was created by King Charles II of England in the Northern Neck between the Chesapeake Bay and the Potomac and Rappahannock Rivers. Lord Fairfax inherited it all, and in 1685, William Fitzhugh bought 24,112 acres referred to as Ravensworth.
It was the largest Colonial land grant, that would stretch across 37.7 square miles – from present-day Fairfax to Annandale to Burke to Newington and Springfield. It is one-tenth of the land mass of Fairfax County and half the size of Washington, D.C. It includes the present-day ZIP Code 22015 with Burke in a part of it.
By the 1850s, a circle of three miles was considered Burke, which would extend to the Beltway to Little River Turnpike and south to the Fairfax County Parkway. Silas Burke was manager and overseer of Ravensworth.
The property's saga evolved over many generations, through Colonial settlement, early government, tobacco plantations, slavery, Civil war, economic expansion, the rise and decline of family farms, and suburban development.
William Fitzhugh died in 1701 and he divided the land between his sons – William Junior and Henry (Captain). So, to organize the maps, Browne developed a decimal system to identify parcels of land, with each division adding a new decimal number; i.e., 1.2.2 then 1.2.3, etc. So, Parcel 1.1 was divided into seven pieces for five of the youngest Fitzhugh sons.
Through the years, there were three noted manor houses on the property: Oak Hill, Ossian Hall and Ravensworth Mansion. As the north half divided into more and more smaller pieces, the south stayed largely intact and carried the Ravensworth name into the 20th century, said Browne.
In the South, a 10,000-acre estate was given to Anna Maria Fitzhugh in 1830. She died in 1874 and she had sold smaller parcels of about 1,000 acres; Mary Custis and Robert E. Lee's children inherited 8,000 acres. In 1799, the owners of Ravensworth owned 196 slaves; and the people who leased the land owned slaves.
Browne stated: "A lot of land was leased and leaseholders and tenants did a lot of the work. They contracted with the owner; the family was granted temporary titles. Leases were specified in deeds in the County court. Most leases were granted before the 1800s. There were also tenants who stayed on the land for many years and did not have right to vote."
Part of the lease provisions were that lease holders had to pay with pounds of tobacco and the promise to plant good fruit trees on the land. The North half of Ravensworth had 30 leaseholders and tenants by 1760.
TO ILLUSTRATE: John Hollis, who married Esther Canterbury, owned land bordering Ravensworth on the west side. In 1758, they leased 205 acres in parcel 1.1. So, that year their annual payment was 1,108 net pounds of tobacco, and in addition to farming tobacco, they operated a hotel.
Another tidbit: Mary Caroline Goldsborough, who was adopted by Anna Maria and William Henry Fitzhugh, lived at Ravensworth and had 1,300 acres of land bequeathed to her. In 1849, she granted the Orange and Alexandria Railroad permission to build the new railroad through her Ravensworth property. In 1850, Mary was living in Easton, Md., and sold her Ravensworth holdings in four pieces.
Today, the Ravensworth mansion no longer exists, as it burned down in 1926, and Ossian Hall met the same fate in 1959 when firefighters used the building for practice in putting out fires.
Debi Deloose, board member of the Burke Historical Society, added: "We seem to forget when we live in an area that's urbanized that it's got a long history. And it's exciting to learn about the history. And so today, by having John Browne here to talk about Ravensworth, which isn't just that street over in Annandale, we learned about who owned the land, who lived on the land, what was here before we were here. For many of us, it's really a fun exploration and an interesting piece of history."
Browne also worked with Sharon Bulova on the "A Look Back at Braddock Project" as the mapping committee chair. Copies of his book can be found on the website: www.braddockheritage.org.