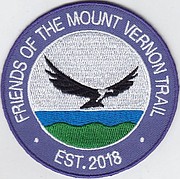 The Friends of the Mt. Vernon Trail have organized an April Photo Scavenger Hunt. The Friends' 27 riddles will take participants to often overlooked sites on the trail. Solve the riddle, snap a photo and share it with them. Full rules and all of the clues are available at their website: https://mountvernontrail.org/2019/03/22/announcing-the-photo-scavenger-hunt/?mc_cid=9683c7be70&mc_eid=db8e911542
The contest runs now through Tuesday, April 30.
Each participant can take a maximum of three photos per week. That means that participants will have to make at least two trips over two weeks to be eligible for the patch and prizes. Part of the fun of this event is learning about different aspects of the trail and experiencing the trail at different times. A week is Monday-Sunday.
Submit all photos via email at the end.