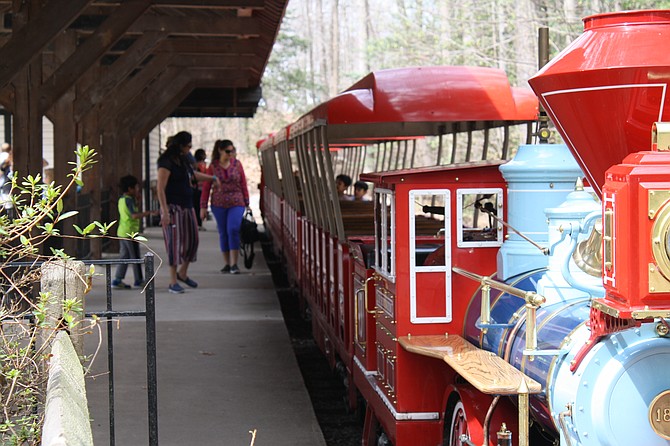 The C.P. Huntington rolled out of storage on Saturday, April 6, thrilling riders with the whistle, the bell and nostalgia as the replica train chugged
along on the rails at Burke Lake Park. The train is 1/3 scale of a full-size train, and a mainstay for park patrons.
Park manager Keith O'Connor has witnessed several generations of families at Burke Lake Park riding the train, and the word has spread around because not every park has a train. "People know about our train," he said.
THE TRAIN runs on the weekends only until Memorial Day, and then it's every day until after Labor Day when it goes back to weekends only. In the late fall, it's parked back in the tunnel. The current C.P. Huntington is number 343, which is the second train owned by the park. Train number 62 was the original, and it's still at the park, but is only used for a promotional set up.
Fairfax Station resident Bill Koch was a driver for years until he died recently. "He loved this train," O'Connor said. His son Ron Pearson still works there and his duties include maintenance to the train and tracks when needed. His father's train experience started with the prison train when Lorton Reformatory was still operating, and he brought that knowledge and love of trains to Burke Lake, and his love of trains spread to his son Ron who started working at Burke Lake while attending Robinson High School. "The Park Authority is a big part of my life and I have enjoyed every position I have had and all the great people I have worked with through the years," Ron Pearson said. "All of which would have not happened if my dad had not gotten me a job at the train when I was in high school."
EACH SEASON, the park employes four different drivers, and the park encourages they take on the role of the conductor, but there is no uniform supplied, although most have gotten hats and a pair of overalls to use. "It's up to them," O'Connor said. The tracks, switches and signals are real and require real attention, just like on the full-sized railroads out there. "This is all real train stuff," O'Connor said, pointing to a switch near the tunnel. "Kids love the tunnel," he said.
Although a train ride with the wedding party or a sports team would make great pictures, the park does not rent it out during regular park hours for that. If a group would like that kind of thing, it has to be off hours and arranged through the park office. "We try and make accommodations for special groups," he said. There is a special car for wheelchairs and they can hook it up to the train quickly. The income from the train is a big part of the park's budget.
C.P. Huntington
The C.P. Huntington was named after Collis Potter Huntington, a railroad pioneer that was big in the early railroads, especially out west. The C. P. Huntington train is a 4-2-4T steam locomotive on static display at the California State Railroad Museum in Sacramento, Calif. The replica train was the first product of Chase Manufacturing in 1961, that now builds carnival rides and roller coasters too at their 310,000 sq. ft. factory in Wichita, Kan.
"It's a replica of 1800s western train," said Larry Breitenstein, the National Sales Director at Chance Rides, Inc. , and they're operated all over the country, including the St. Louis Zoo which has four trains. They are sturdy and don't wear out easily, said Breitenstein. "We have trains operating out there from the '60s and '70s," he said. One was used in a Claritin allergy medicine commercial at the Santa Barbara Zoo, and Michael Jackson had one running in Neverland Ranch, also in California.
Around Burke Lake, if it's during the warmer months, the train must go on, said O'Connor, "they're tough." If it's down, "people get upset," he said, and mechanics are called in all hours of the night to fix it. "The train has to go," he said. O'Connor once took all the wooden benches to his father's house and refinished them.