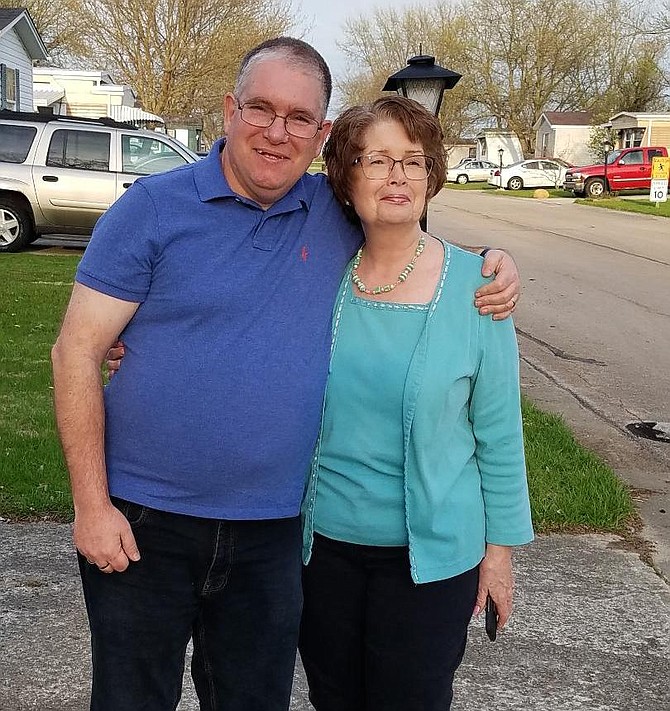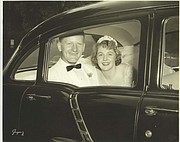 Patrick Sullivan, 53, of North Springfield was adopted as a baby by Jack and Patsy Sullivan and grew up in a loving family in Arlington. The Sullivan household was Irish, with dad being the Chapter president of the Ancient Order of Hibernian and mom organizing fund-raisers for the St. Patrick's Day Parade in the District. When his adoptive parents both died in 2005, he started thinking about finding his biological parents. Last Christmas his wife Sun got him the DNA kit 23-and-Me.
"I've been curious all my life," said Patrick, who works in security. "It gained momentum after my adoptive parents passed away. There's no way to replace them; they raised me and made me who I am today, but it made me want to know more about where I came from," he said.
HE TOOK THE DNA TEST and six weeks later the results came back. He discovered he was half-Irish with a mix of Scandinavian, French, German, and Native American. The kit has an option to share genetic info with other customers so if there's a match, they can hook you up. Patrick was matched with a first cousin who had taken the test. As luck would have it, the cousin then got in touch with her father who confirmed that his sister had given up a baby for adoption in October 1965.
"Having that confirmed date and the DNA match, that was pretty conclusive that his sister was my mother. So that was pretty big and exciting for me. She put me in touch with her father and we started exchanging email," he said. "She sent me baby pictures of my mother, so when you look at her baby picture and look at my baby picture, there's definitely a resemblance."
The downside was due to a falling out, the siblings hadn't been in touch with each other in 30 years. But he gave her full name, date of birth and the name of his father. "My wife turned into a private detective overnight and started searching public records and she followed a trail of marriage certificates and found my mom. A couple hours after that, she found a Facebook profile," he said.
He contacted his mother Eileen, now 69, but didn't hear anything for two weeks. "One morning, there was a message in my inbox that said, 'Good morning son.' So that was a very emotional morning for me. We started chatting on Facebook; she gave me a phone number; we talked on the phone and found out a lot of interesting things. I have two sisters (Charlotte and Amanda)." It turns out that they had been trying to look for him as well.
He learned that his mother got pregnant when she was 16, was unwed, and didn't have resources to raise a child in the 1960s. "She and my father decided the best option would be adoption. The one thing I feel great about is I got to tell her that if I ever found my birthparents, that you made a good choice. The people who adopted me were wonderful people and I had a good life. I got to tell my mom that and that was a relief for her because she had thought about me every day wondering what kind of life I was having -- so it was gratifying to her to find out that things had turned out well."
Last week, on April 16, Patrick set the date to drive to Ohio with his wife and two kids (daughter Jessica, 8, son Jason, 7) to meet his mom in person. "We pulled up and she was standing outside waiting for us. That was an incredible moment, a pretty heavy moment. I got out of the car and ran up to her and we hugged and had a few little tears. We went inside and talked. She went into grandma mode. She gave us some presents, cooked a meal for us and we sat down and talked for a while," he said.
She didn't give a lot of details of the circumstances of his coming into the world, but she told him the name of his real father who he later learned had died in 1981, and a little bit about him. She said he was crazy about him but after he found out she was pregnant, he kind of vanished.
"That was what I expected -- back in those days that was common. We talked about her life and her childhood and how she grew up and it was very different from my own. We talked a lot of the decision she made to give me up for adoption and how she came to that conclusion. As an unwed teenage mother in the 1960s with no resources, she felt it was the best way for me to have a better life," he said.
One of the things his mom revealed to him is that he is the great-great-seven times, grandson of Patrick Henry; and he's also descended from King Harald Fairhair of Norway, the first King of Norway.
HE CALLED THE MEETING "overwhelmingly positive -- I can see her sense of humor and how she talks about life there's a lot of similarities between us. A lot of my personality comes from her. Clearly, the nurture I received from my adoptive parents gave me a lot of things, but also nature-wise, I got a lot from her. She's a very caring, generous person."
He continued: "I'm fairly overwhelmed, it's like accomplishing a lifelong quest that I have pursued with varying intensity over the years, but it is something I've tried to accomplish. Now that I've done it and I found her, and got to hug her and kiss her, and it's definitely a whole new chapter. We're definitely in each other's lives now. It was a great experience."
According to a spokesperson from 23-and-Me: "Our customers regularly share their compelling stories with us about what they learned from their 23andMe results -- whether it's about filling in major gaps in their family tree, taking trips to new places to explore their origins, or surfacing powerful discussions around race and identity. With genetic testing becoming popular in recent years, stories like Patrick Sullivan's, where adoptees connect with biological family after knowing nothing about them, are also increasing in frequency…"
"It's important to note that our DNA Relatives feature, in which customers connect with family members in our database, is completely optional. Customers have to opt-in to use the tool, and we also clearly explain that they may discover surprising information about themselves and their family by using the tool."