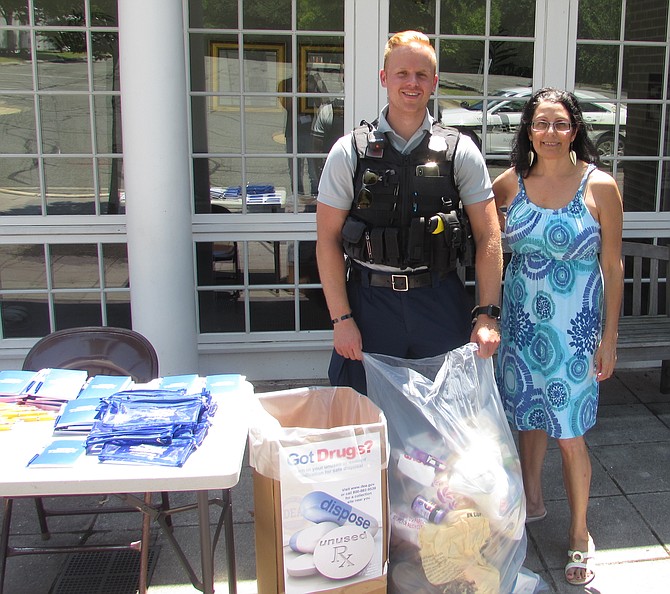 Mary Luceri has been at the First Baptist Church of Alexandria since 10 in the morning. She sits in the shade of the church's towering brick walls and chats with Alexandria Police officer Dylan Ignacio. Occasionally, someone will approach their table and drop unwanted prescriptions into a plastic bag that balloons with pill bottles.
Alexandria's most recent "Drug Take Back Day" was held last Saturday, July 27. The event was an opportunity for local residents to get rid of any unused medication — part of the city's effort to prevent prescription drug abuse.
The current opioid epidemic has become one of the nation's primary public health concerns, with more than 400,000 opioid-related deaths recorded between 1999 and 2017. The opioid epidemic is also an issue from which Alexandria is not immune. According to the Substance Abuse Prevention Coalition of Alexandria, there have been more than 50 opioid overdoses in Alexandria in the past year, seven of which were fatal.
The Substance Abuse Prevention Coalition of Alexandria is responsible for organizing the "Drug Take Back Days" and currently holds four such events per year. "We work very closely with our community partners, including the police and the sheriff's office…, in order to make sure there are officers staffed at each site to actually collect the medication … and promote the importance of disposing of unused and expired medication," said Emma Beall, coordinator of the Substance Abuse Prevention Coalition of Alexandria.
Sheriff's deputies, along with police officers and volunteers, operated four drop off locations during Saturday's drug take back. All four locations collected a combined 300 pounds of medication. No record was kept, however, of the kind of medication dropped off, and those who dropped off the medication remained anonymous. The policy of "Drug Take Back" is: "Don't ask, don't tell. We don't ask any questions. It can be your medication, or a family member's," said Deputy Morgan Garner. After collection, the medication was brought to Alexandria's waste management facility where, under supervision from the sheriff's office, it was destroyed.
The City of Alexandria began "Drug Take Back" in 2010 as part of a national effort led by the Drug Enforcement Administration, aimed at responding to the rapidly increasing number of opioid overdoses. In addition to the quarterly "Drug Take Back" events, the city has installed permanent dropboxes at Inova Alexandria Hospital and the Neighborhood Pharmacy on Mount Vernon Avenue. Including these permanent dropboxes, the city has collected, and disposed of, more than 6,000 pounds of medication since the program's inception in 2010.