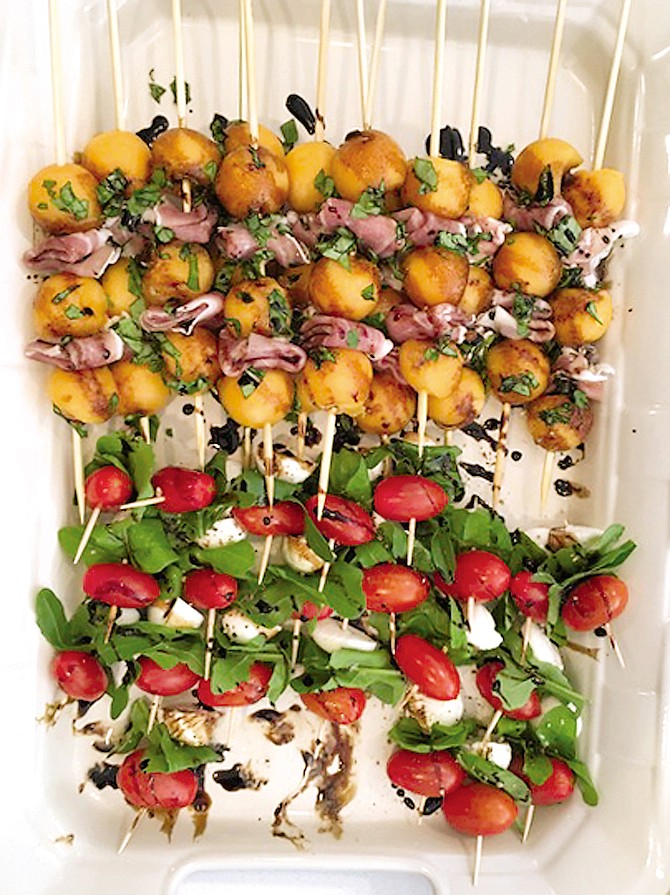 Local farmer's markets right now are overflowing with deep purple plums, tomatoes ripened by rays of sun and peppers in hues that span a rainbow. This season's bounty yields not only flavors with a richness that peaks in August, but also a powerful punch of nutrients.
"Produce is most nutritious when it's in season, but it's normal to see supermarkets carrying the same produce all year long, said nutritionist Carley Johnston. "People don't always think about only cooking with what's in season because they don't have to."
Fruits and vegetables that are consumed out of season are often shipped from other countries, picked before they're ripe and sprayed with preservatives. "When produce is allowed to ripen while it's sitting in a packing box on its way to the supermarket it's robbed of some of its nutritional content," said Johnston.
On the other hand, produce that is naturally sun-ripened is more vitamin and nutrient-dense than its prematurely picked counterparts because ripening allows those elements to develop fully, says Lauren Trocchio, registered dietitian at Washington Center for Weight Management and Reset. "Cooking seasonally…means using produce that has traveled less of a distance to your kitchen," she said. "Both of these things may prevent the nutrient loss that comes with picking produce early or spending a lot of time in transit. The longer the transit and wait time, the more impact to nutrition and taste."
Among the nutrient-dense — and delicious — fruits and vegetables that are in season in summer are peaches, blueberries, zucchini and tomatoes. "Blueberries for example are rich in antioxidants and fiber," said Johnston "They're also high in Vitamins C and K. Blackberries are high in fiber and antioxidants. They're also anti-inflammatory which can boost your immune system. Corn is high in Vitamin B. Cucumbers are hydrating, which is important during the summer."
Fortunately preserving the health benefits is made easy because only minimal preparation is needed to get maximum flavor, says culinary instructor Terri Carr of Terri's Table Cooking classes in Potomac. Md. "Cooking in the summer with the freshest local produce is a real treat," she said. "There is a smorgasbord of ingredients to choose from."

From watermelons, peaches and plums to tomatoes, corn and zucchini, summer brings a variety of culinary inspiration. "Imagine a platter of tomatoes, peppers, sweet peas, zucchini, sweet Vidalia & red onions, continued Carr. "Complicated recipes are not needed when quality summer produce is available…in fact it's better to cook simple recipes that bring out the food's flavor."
Using the best of summer produce, Carr is teaching seasonal cooking classes this summer using her popular preparation methods. "A favorite summer salad is Panzanella…a classic Italian bread salad," she said. "Combine toasty bread cubes with lots of colorful peppers, tomatoes, green onions, basil, cucumber. Beautiful presentation & flavor. Perfect for lunch or a side dish at dinner."
For those who think eating seasonally means epicurean deprivation, Carr dispels that notion. "Imagine a platter of summer fruit, she said. Peaches, nectarines, plums, apricots, strawberries, blueberries, blackberries [and] melons; they're absolutely delicious all by themselves or mixed in with a salad or dessert."
Cooking with a mixture of seasonal herbs and produce, like basil and vine-ripened tomatoes, offers an even more powerful impact on the palette. "Summer herbs [are] my favorite, said Carr. "Most herbs are now available in grocery stores year round but they cannot compare to summer's bounty. Basil, thyme, rosemary, parsley and mint are my go-to's when creating a meal."
Summer produce offers energy needed to maintain the active lifestyle that comes with longer days filled with outdoor activities, says Johnston. "Our bodies need the added energy we get from the nutrition found in berries and peaches," she said. "Cucumbers and melons are juicy, which keeps us hydrated when it's hot outside."