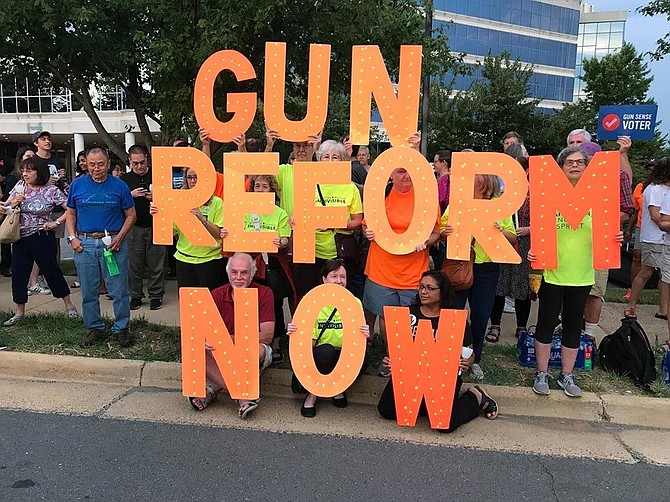 Reform might not happen in Virginia until after the November election.
If we look back a little more than a month, the memory of the Republicans in the Virginia General Assembly adjourning a special session on gun safety by ambush, without any discussion on proposed measures, resonates with raw emotion.
The NRA publicly launched its operations that day from the conference room of the Speaker of the Virginia House of Delegates, literally announcing to members on its website where to meet. It must have seemed such sweet success to them to shut that session down without any deliberation.
The lives of the 12 people who died in Virginia Beach at the end of May were not discussed.
But now many more lives have been cut short or forever changed by gunfire between the July 9 debacle in the Virginia General Assembly and today.
There must be state and local legislation as well as federal legislation.
Here are some key provisions:
No one with a restraining order or convicted of domestic violence should have access to firearms.
Comprehensive background checks without loopholes or exceptions.
Ban assault weapons.
Ban large capacity mechanisms for ammunition.
ON TUESDAY, Aug. 20, at noon, the Virginia General Assembly Crime Commission will accept public comments on the gun legislation introduced during the July 9 and through July 19. Public comment will be taken for the first 3 hours (more details will be announced in the coming weeks on how to sign up to speak). Next, patrons will present their bills. Currently, there are about 60 bills that have been filed. Members have until July 19 to file legislation. Link to bills: http://lis.virginia.gov/cgi-bin/legp604.exe?192+lst+ALL See http://vscc.virginia.gov/meetings.asp for updates.
Crime Commission staff is currently accepting written comments on this topic. Send written comments and any other information/materials relevant to this topic via email to comments@vscc.virginia.gov or via postal mail. Comments will be shared with members of the Crime Commission.
Additional details regarding the deadline for submitting written comments will be announced following the Aug. 20 Crime Commission meeting.


Attn: Written Comments
Virginia State Crime Commission
1111 East Broad Street, Ste. B036
Richmond, Virginia 23219


THREE THINGS:
Video games aren't the cause. Video game usage is as high or higher in many other countries, all with almost no gun violence.
It's not mental illness, although giving more resources for treatment of mental illness would be welcome. Incidence of mental illness is similar in other countries, all with almost no gun violence. (Doing a better job keeping guns out of the hands of people with mental illness would prevent thousands of suicides.)
More guns won't help. In Dayton, police shot and killed the attacker in less than a minute, but still he shot and killed nine people and wounded 27.
There is a good chance that these reforms won't happen without electoral change both in Virginia and nationally. Don't forget about voting in November. Every seat in the Virginia General Assembly is on the ballot.
— Mary Kimm
mkimm@connectionnewspapers.com