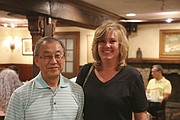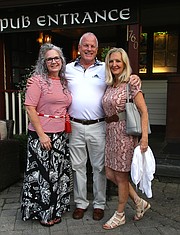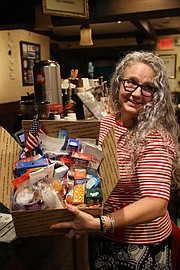 This Monday, a monthly fundraising dinner at The Old Brogue in Great Falls was held in support of the Blue Star Mothers organization.
This monthly event brings people with open hearts together to do good for those who serve for peace and their families.
For more than a decade, Bob Nelson, former CIA officer and now a Realtor, has been hosting a variety of fundraising events for the service members. These meetups have brought more than $2 million to those who are in need of such support.
Nelson's good friend, Nathan Ross Chapman, was the very first service member to be killed in an ambush in eastern Afghanistan on Jan. 4, 2002. Nelson decided to launch the monthly Military Appreciation Monday initiative in memory of Chapman.
"He left behind two young children," Nelson said. "People like him never got much recognition. I thought about him all the time. One day I heard a commercial on the radio for a group called Our Military Kids. At that moment I've decided to do fundraisers for different military support organizations".
ON MONDAY, AUG. 12, the event was co-hosted by Blue Star Mothers, a non-profit that provides support for mothers who have sons or daughters in active service in the U.S. Armed Forces.
"We support each other, we do a lot of work with our veterans," said Donna Long, president of Chapter 5 of the Blue Star Mothers. "We send 'We Care' packages to U.S. military units across the world to let them know how much we appreciate their work. This is a way of saying thank you."
Both of her sons are Marines. One is serving in Japan and another is in North Carolina. She understands what it means to be a mom of those who are deployed. Even when the children are not at war, the mothers often deal with stress. Deployment to war creates new issues for them to handle.
"You can receive bad news at any time. Any moment somebody could be knocking on the door saying that your child has died in combat," Long continued. "A lot of people just don't understand that stress. We do understand."
Gary and Shelly Kaihara have been cosponsors of the Military Appreciation Monday from the very beginning.
"I never served in the military," Gary Kaihara said, "but there has always been something that I supported. If I'm in a better position to support the military and although I can't do anything as far as serving, this seems like a good way to support them."
Two guests at the dinner have fascinating stories.
Bob Shawn, at the age of 99, is one of the country's oldest surviving World War II, Korean War, and Vietnam War veterans. Sharing the dinner — and his story — with him made many participants feel honored.
Robert Jones, a retired Marine Corps sergeant, joined the dinner with his wife, Pamela Relph. He lost the bottom of both of his legs in 2010 while serving in Afghanistan as a combat engineer. He is not letting the loss stop him from living an active life. Jones rode a bike across America to raise money for veterans' charities; ran 31 Marathons in 31 days; got a bronze medal in the London Paralympics in 2012.
MILITARY APPRECIATION DINNERS are held on the second Monday of every month at the Old Brogue in Great Falls.
If you would like to join next time for the Military Appreciation Monday, just call the Old Brogue at 703-759-3309, make a reservation for either the 5:30 or 7:30 seating, and order from the Old Brogue menu.