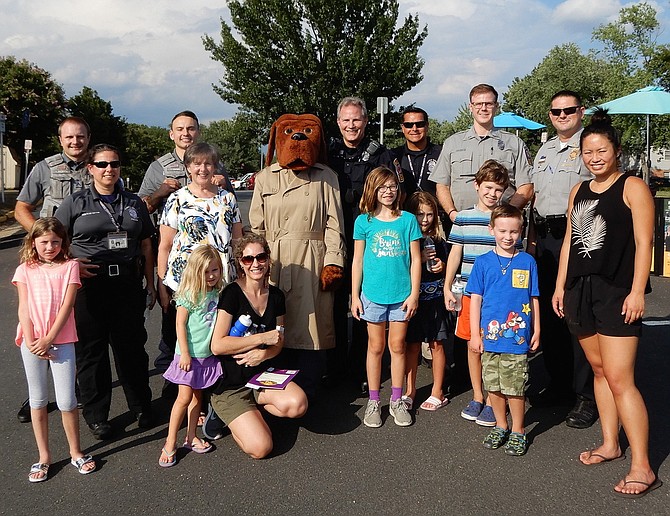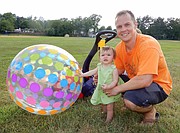 Each year, on the first Tuesday evening in August, people throughout the U.S. gather with first responders in recognition of National Night Out. This community-building and crime-prevention event enables residents to meet and mingle with their local police officers and firefighters, as well as their own neighbors.
This year's event was Aug. 6, and communities in the area celebrated with a variety of activities, including pool parties, ice-cream socials, children's games, face-painting, music and food galore. Below are details of two of the gatherings in the Fair Lakes/Chantilly area.
Fair Lakes Condos
At the 156-unit Fair Lakes Condos, residents gathered at the park off Fair Crest Court for food, fun and camaraderie. "It's our third year doing this," said Debbie Ansman. "We hope to continue to expand it and maybe partner with another community next year."
She said it's important for people to come out and talk to members of the police and fire departments. "If the residents have any questions about crime in the neighborhood, or safety, it's a good way for them to get to know their public-safety providers," said Ansman. "And the kids get to climb on fire trucks and meet police officers and not be afraid of them."
The Fair Lakes Condo Assn. Board put on the event. Attendees munched on chicken nuggets from Chick-fil-A, cookies and chips, and a table full of giveaways included a child-protection I.D. kit,
"We have a great group of people here, and they're what make it a special community," said Property Manager Michelle Johnson. "There's a good mix of families and singles. And it's a really nice location, as well, with mature trees, besides being close to all the amenities in Fair Lakes. It's kind of an oasis."
Abdullah Hamidaddin agreed. "I've lived here three years, and I just love the local area and all the amenities around us," he said. "We're within five minutes' driving distance of shopping centers, grocery stores and all the dining options of the Fair Lakes Shopping Center and the Fairfax Towne Center."
"We're also close to I-66 and have a nice mix of quiet and activities," he continued. As for National Night Out, he called it "A great opportunity to get to know your community and make a connection with your local police and fire departments."
Brookfield
This neighborhood's event was held outside Brookfield Elementary, off Lees Corner Road in Chantilly. Besides the residents and police from the Sully District Station, attendees included Supervisor Kathy Smith (D-Sully).
"I think it's really wonderful to bring our residents and law enforcement together to build community," she said. "It lets people talk to each other and get to know the services offered by our public safety officers. And it's great that the League of Women Voters is here registering people to vote, and the Sheriff's Office is doing child identification."
Resident Gavin Page sat on the grassy field with daughter Regan, 1, who was having a good time playing with a big, polka-dot, beach ball. "We came here to see friends and neighbors," said Page. "And as long as my daughter has a giant ball, she's excited."
Police PFC Taylor DeMarre was there attending National Night Out for the first time. "I like how it brings the community together," he said. "It's important that we're there, as well, to show support for the community and to let people know that we're around if they need us."
On the menu were cold beverages, cookies, crackers and ice cream. And children had fun playing with beach balls and hula hoops and having games of ring toss. Among those enjoying it all was Margie Wheedleton, secretary of the community's homeowners' association, Friends of Brookfield.
"There are people of many different cultures here in Brookfield," she said. "So this event is an opportunity to foster intentional community. People get to come out, meet their neighbors and thank their police officers, firefighters and Sheriff's Office personnel for all they do for us. They also see that, despite our diversity, we share a community and work together to build friendships to make Brookfield the best that it can be."