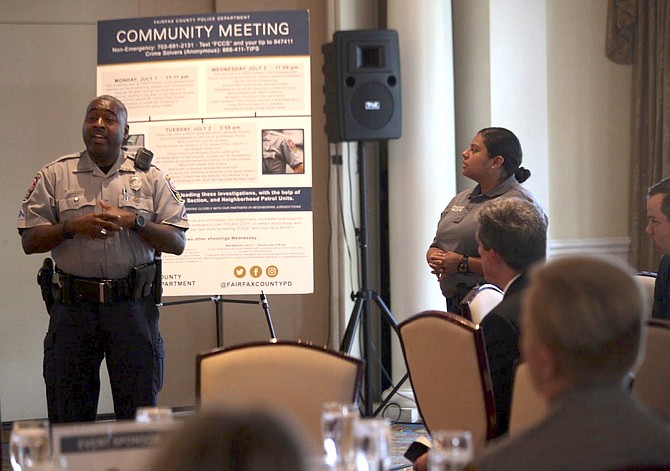 Police Captains Greg Freid of Franconia Police Station and Brian Ruck of Mount Vernon Police Station spoke at the Mount Vernon-Lee Chamber of Commerce's August Business Breakfast last week, encouraging business owners to build relationships with law enforcement officers and utilize police programs to prevent crime before it happens.
The lecture focused on the prevention of active shooter situations in light of the two gang-related shootings in the Mount Vernon area this year and the more recent shootings in El Paso and Dayton.
"The Chamber partners with the Fairfax County Police Department to keep our businesses safe so that employees and customers feel safe when they come into these businesses," said Holly Dougherty, executive director of the Chamber of Commerce. "We want our businesses to know the police officers and have good relationships with them so they know who to call whenever they need anything."
Ruck emphasized that the two shootings in Mount Vernon are believed to be the connected results of gang activity, not random acts of violence. Nevertheless, the station encouraged business owners to join Fairfax Business Watch, a partnership of local businesses and the Fairfax County Police Department providing free protection programs such as security checks, robbery prevention, and active shooter situation safety.
"It's so important to get out as much information as possible out and reduce fear," said Freid, who has been dealing with other gang-related shootings in Franconia. "We're being proactive in stopping acts of violence like this and we have a lot of free services available to keep homes and businesses safer."
Freid also reminded attendees that cruisers can be called upon for free to supervise business events in both Mount Vernon and Franconia and that any reports of suspicious activity in or around a given business are helpful in data collection and preventative action.
"We're happy to go where you want us to go," Freid said to the Chamber. "As part of the business community, you are part of the community as a whole, and we want you to talk with us about your business's needs. Fairfax only stays safe when everyone gets involved."
Despite the shootings, Ruck said that Mount Vernon's already relatively low crime rate reduced by 7% this year. Officer Marvin Goodley of Mount Vernon Police Station said that this generally safe environment can make businesses owners lazy about security.
"A common misconception business owners have here is that they don't have to do anything," Goodley said. "Fairfax County is a safe place but we still need to be proactive to make sure our business and homes stay that way."
Ruck said this year's reduction in crime could have been caused by transportation apps such as Uber and Lyft which decrease the incentive to drive under the influence and the new Virginia state law that raised the felony theft threshold from $200 to $500. Domestic violence and pedestrian traffic crash fatalities continue to be county-wide issues.
Ruck encouraged attendees to participate in the Mount Vernon Police Station's Citizen Advisory Committee, a discussion group concerning crime statistics and safety-related questions that meets at 7 p.m. on the last Thursday of every month.
"We're not making Fairfax County safer by just writing tickets," said Freid. "We're doing it with education and engagement. We're all going to be stronger and we're all going to be more resilient when we find ways to work together as a community."
For more information on the Citizen Advisory Committee, visit: https://www.fairfaxcounty.gov/police/GetInvolved/CitizenAdvisoryCommittee
For more information on Fairfax Business Watch, visit: https://www.mtvernon-leechamber.org/business-watch.