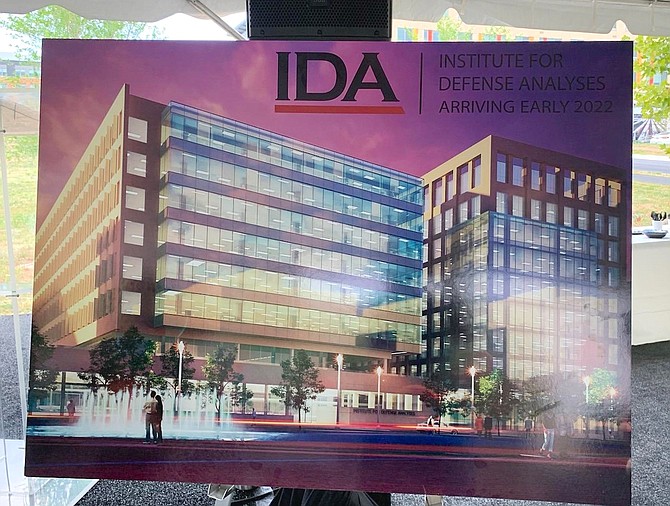 Alexandria officials donned hard hats as they joined construction company representatives and real estate partners at the formal groundbreaking of the future headquarters of the Institute for Defense Analyses Aug. 13 at Potomac Yard.
"We're here to mark the next stage in our journey to our new building," said IDA president Dr. David S.C. Chu. "I am amazed at how this area has developed. When I first looked at this area, nothing was here, but it is growing and we are looking forward to being here in two to three years."
Located at 730 East Glebe Road, the site is just over one block from the future Potomac Yard Metro station and in close proximity to the site of Virginia Tech's new Innovation Campus.
"Talk about location, location, location," said longtime City Councilwoman Del Pepper. "You can't lose by being here in Potomac Yard. This is a happening place. It is a growing, thriving part of our city and is quickly becoming Alexandria's innovation district."
Currently headquartered in the city's West End, IDA's future 370,000-square-foot facility is expected to be completed by early 2022. According to City Councilman Canek Aguirre, Alexandria's Department of Community and Human Services and Health Department will relocate later that same year to IDA's current space on Mark Center Drive.
Founded in 1956, IDA is a nonprofit corporation that operates three Federally Funded Research and Development Centers in the public interest. It has been headquartered in Alexandria since 1986 and purchased the Potomac Yard site in 2016 for $10.1 million.
"Over the last four decades, the City of Alexandria has benefited from the reputation of this Institute," said Pepper. "Our city and economic development staff worked with IDA leadership and advisors over recent years to help identify sites that would meet the Institute's growth for decades to come."