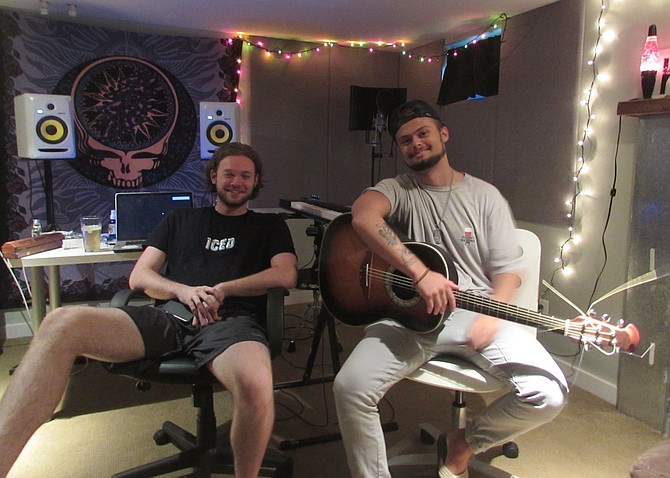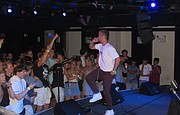 It's 10 minutes to seven and the doors are about to open at Union Stage. Sound check is over and done with, and the performers now mill about the green room, sipping Red Bull and filling the air with nervous chatter.
George Hughes, known by the stage name, HEF, reclines on a black leather couch and tries to calm the nerves of his long-time music-making partner, Zach Siegel. Siegel, the concert's DJ and emcee, is minutes away from heading onstage. He hunches over his phone screen and mutters lyrics under his breath in a last-minute attempt at memorization.
"The more you overthink it, the more you're going to mess yourself up" says Hughes, thumbing passively at his iPhone. "It's like the SATs; you just wing it."
Siegel cracks a smile and lifts his eyes from the screen. "I'm honestly not nervous," he says.
"You shouldn't be," says D$G DAE, the concert's opening act, who walks over and shakes Siegel by the shoulder. "We were built for this."
As showtime approaches, Hughes and Siegel start pacing restively around the room. They crack jokes to ease the tension and talk through what to do on stage. "Before you go out I'm about to say, 'Are you all ready for HEF?' And they're going to go crazy," Siegel says, his voice swelling up.
Hughes first started writing music when his father died. He took to his passion quietly at first, scribbling lyrics on scraps of paper, which his mother would find scattered about the house. As a teenager, Hughes began to take his music more seriously, but it became more of a struggle. Working alone became a frustration for Hughes, who set out to find a creative ally.
In 2016, during his sophomore year at Bishop Ireton High School, Hughes became aware of Siegel, then a senior at T.C. Williams High School who had just started making beats in his basement studio. Hughes took a chance and sent Siegel a message out of the blue. They met for a collaboration and became fast friends.
Since the pair started working together in 2016, they have released several songs on music streaming platforms such as Spotify and SoundCloud, and have seen their popularity steadily grow. The latest collaboration between Hughes and Siegel, Hughes' debut album, "Hef," was released in March 2019 and drew more attention than any of their previous works. "Our first EP has like 215,000 [plays] on Spotify. Our album, in the first month, had 325,000 [plays]," said Hughes.
The duo works independently and still does all the recording in Siegel's basement. The set-up allows them to take their time and work undisturbed, with Hughes coming up with song lyrics, while Siegel works out a beat. "We have everything we need here. It's cheap and we just get to have fun taking as long as we want," said Hughes.
The two have tried to capitalize on their internet notoriety and have played several shows around the D.C. area, most recently an Aug, 1 show at Union Stage. "Basically, to do shows you have to do small venues, then slightly bigger, and slightly bigger," said Siegel. "It proves that you'll have sales."
Hughes currently splits his time between music and his studies at Northern Virginia Community College. He plans to finish his studies, but hopes to go all in on his music career.
"It's a thrill to see him onstage," said Jane Hughes, who attended her son's show at Union Stage. "I love to see him enjoying himself and being creative."