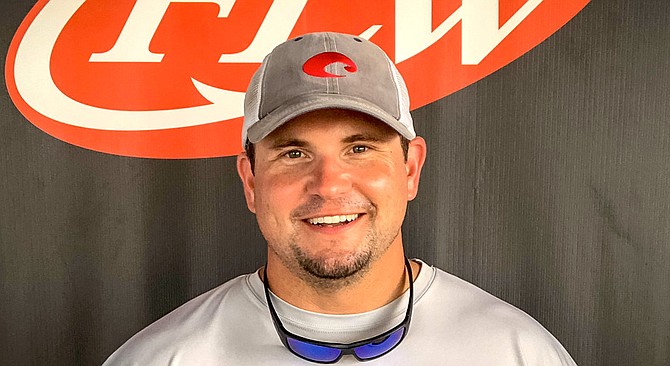 Boater Todd Langford of Great Falls won the T-H Marine Fishing League Worldwide (FLW) Bass Fishing League (BFL) Shenandoah Division tournament on the Potomac River Saturday after catching a five-bass limit weighing 15 pounds, 2 ounces. Langford took home $2,600 for his efforts.
Langford said he fished mid-river, in Occoquan Bay. He caught them out of heavy grass mats using a Texas-rigged green-pumpkin-colored Reaction Innovations Sweet Beaver, paired with a 1¾-ounce weight.
"I really fished one area where you could get bit on– the river is fishing tough right now," said Langford, who notched his first career win in FLW competition. "The area was probably 500 yards, but had key spots within the stretch. There was some moving water in those spots and the high tide helped."
Langford is listed as having $9,576 in career winnings from 25 events.
Langford's bait was rigged on a straight shank hook via snell knot, tied to 65-pound-test PowerPro Super Slick braided line on a 7-foot, 11-inch Halo Twilite Series heavy-action flipping rod.
"I caught seven or eight keepers during the tournament," said Langford. "They bit best when the water was moving – at the end of the incoming tide and the beginning of the outgoing tide."
Langford went on to say that he caught a key fish in the very back of a creek during low tide around 1:30 p.m. using a white 3/8-ounce Z-Man Evergreen ChatterBait Jack Hammer with a white Reaction Innovations Skinny Dipper trailer.
Complete results can be found at FLWFishing.com.
The top 45 boaters and co-anglers in the region based on point standings, along with the five winners in each qualifying event, will be entered in the Oct. 10-12 BFL Regional Championship on Lake Hartwell in Seneca, S.C.