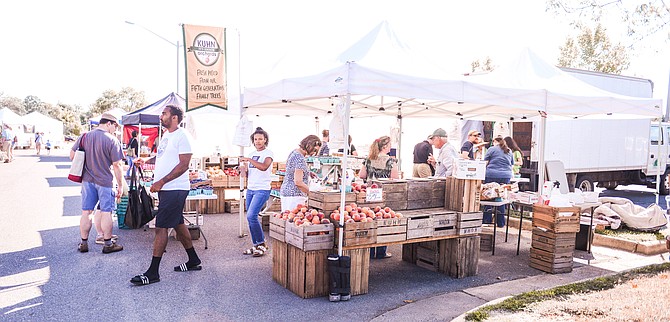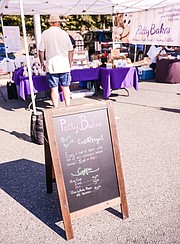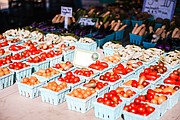 Sunday mornings at the Lorton Farmers Market are bustling with locals and regulars who enjoy local produce and the community that comes with the market. Because of the tightness of the market, multiple vendors describe the community as a family as they describe not only their fellow vendors but their customers as well. The Lorton Farmers market provides a wide variety of choices, such as Lebanese Food, fresh baked scones, and multiple stands of local produce. "This market has a lot to offer. It is a small market but you'll find a little bit of everything here." stated Nancy Ochoa from Ochoa Produce.
The appeal to farmers markets is growing due to the appeal of "farm to table" living. "The appeal to farmers market is growing. Farm to table, local, more sustainable," says Weber. "Also, you can get better deals at farmers markets a lot of the time. Things are a little cheaper and there is a personal touch when you get to know who is growing it."
Not only do customers enjoy the locally grown produce, they enjoy getting to know exactly who is growing their food. "We love fresh and local," says customer Curtis White. "We like to get our produce as close to the vine as possible. We like to be able to meet the farmers and meet the people producing the food. It is one of our kids favorite things to do." Many families are regulars at this market. Weber estimates that the market's customers is about 70 percent regulars and 30 percent new customers.
This market has been described as a relatively smaller market, but most say that this allows for a strong community feel.
The market is organized through Fairfax County; there are several markets in the Northern Virginia area that are organized by Fairfax County including one in Burke.
Open each Sunday from 9 a.m. to 1 p.m., this market does not truly get busy until later in the day when church is over for most families. During the off-season, vendors apply through Fairfax County so that the types of products can be considered based on the variety and the needs of the customers.
"We have lots of regulars and we like to give them preference," says market manager Kimberly Weber. "To give the community feeling of the market, you want familiar faces. A lot of the vendors actually go to other markets as well but people come back for the familiar face so that they get to know who is growing the products that they love so much. We do have new faces here such as the popsicle vendor and a coffee roaster." Everything in the market must be locally grown.
Patty Repko and her husband own PattyBakes which has been a regular at the Lorton Farmers Market for a while now. "We get mostly regulars and most of our clientele shows up every week," says Repko. "The vendors are all really friendly, we are just one big family." The stands are constantly bustling with conversation between vendors and customers. This market also has several produce stands that are very popular among customers. "We have built a lot of regular customers that are like family now," says Ochoa.