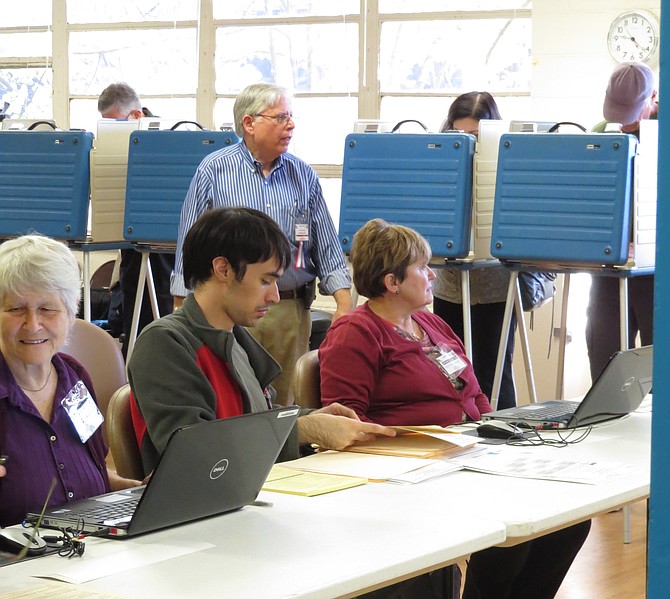 On or About Sept. 20: Absentee Voting begins at the Office of Elections, 12000 Government Center Pkwy., Conference Rooms 2/3, Fairfax
Oct. 15: Voter Registration Deadline. In-person: 5 p.m., online: 11:59 p.m.
Oct. 29: Deadline to request an absentee ballot by mail, 5 p.m.
Nov. 2 Final day to vote absentee in-person, 5 p.m.
Nov. 5: Deadline to return your ballot to the Office of Elections, 7 p.m.
Nov. 5: Election Day, Polling Places open 6 a.m. to 7 p.m.
Fairfax County Office of Elections,

Hours: Monday-Wednesday, Friday 8 a.m.-4:30 p.m.; Thursday, 8 a.m.-7 p.m.
12000 Government Center Parkway Suite 323
Fairfax, VA 22035
703-222-0776 TTY 711
voting@fairfaxcounty.gov
www.fairfaxcounty.gov/elections/
When you register to vote in Virginia, you DO NOT register to vote by party. Virginia is an Open Primary state which means that any registered voter in Virginia can vote in either a Democratic or Republican primary. When both parties are holding a primary election, you will be asked which primary you want to vote in when you check in to vote with your photo ID. Note, you may only vote in one primary.
Voter ID Requirements:
Per Virginia law effective July 1, 2014, all residents must provide valid photo identification when they vote in-person. Please consult the VA Department of Elections for the most up to date information regarding acceptable forms of voter photo ID.
Many types of photo ID are acceptable for voting in Virginia. You only need to show ONE acceptable photo ID to vote. Photo IDs can be used to vote up to one year after the ID has expired. Acceptable forms of valid identification: Virginia driver's license, Virginia DMV-issued photo ID, United States passport, Employer-issued photo ID, Student photo ID issued by a school, college, or university located in Virginia, Other U.S. or Virginia government-issued photo ID, Tribal enrollment or other tribal photo ID, Virginia Voter Photo ID card
If you get to your polling place without acceptable photo ID, you can vote a provisional ballot. You will be given instructions on what to do so your vote can count.
OFFICES ON THE BALLOT, Fairfax County
Member Virginia Senate, vote for one in your district
Member House of Delegates, vote for one in your district
Commonwealth's Attorney, vote for one
Sheriff, vote for one
Chairman Board of Supervisors, vote for one
Member School Board at Large
Member Board of Supervisors. vote for one in your district
Member School Board. vote for one in your district
Soil and Water Conservation Director Northern Virginia District
School Bonds Referenda
Voter Registration and Voter Photo ID Opportunities
The Office of Elections is open during normal business hours to provide residents the opportunity to register to vote or obtain a free voter photo ID if needed. The Office of Elections also provides residents opportunities to attend offsite events throughout the year.
Upcoming Voter Photo ID Events
Sept. 7 and Oct. 5, 10 a.m. until 2 p.m., Sherwood Regional Library, 2501 Sherwood Hall Lane, Alexandria, VA 22306
Aug. 27, 3 p.m. until 5:30 p.m., Burke Lake Gardens, Thursday, 9608 Old Keene Mill Rd., Burke, VA 22015
Sept. 10, 1 p.m. until 4 p.m., Leewood Healthcare Center, Tuesday, 7120 Braddock Rd., Annandale, VA 22003
Sept. 11, 10 a.m. until 4 p.m., Arleigh Burke Pavilion, Wednesday, 1739 Kirby Rd., McLean, VA 22101
Sept. 16, 10:30 a.m. until 2 p.m., Chesterbrook Residences, Monday, 2030 Westmoreland St., Falls Church, VA 22043
Sept. 20, 10 a.m. until 2 p.m., The Virginian, Friday, 9229 Arlington Blvd., Fairfax, VA 22031
Sept. 23, 10 a.m. until 2 p.m., Goodwin House Bailey's Crossroads, Monday, 3440 South Jefferson St., Falls Church, VA 22041
Sept. 24, 10 a.m. until 12:30 p.m., Sunrise at Reston Town Center, Tuesday, Sept. 24, 10 a.m. until 12:30 p.m., 1778 Fountain Dr., Reston, VA 20190
Sept. 24, 2:30 p.m. until 5 p.m., Hunters Woods at Trails Edge, Tuesday, 2222 Colt Necks Rd., Reston, VA 20191
Sept. 25, 1 p.m. until 4 p.m., Tall Oaks Assisted Living, Wednesday, 12052 North Shore Dr., Reston, VA 20192
Sept. 26, 11 a.m. until 1 p.m., The Crossings at Chantilly, Thursday, 2980 Centreville Rd., Herndon, VA 20171
Sept. 28, Noon until 4 p.m., Reston Multicultural Festival - Lake Anne Plaza, Saturday, 2310 Colt Necks Rd., Reston, VA 20191
Oct. 1, 10 a.m. until 1 p.m., The Woodlands Retirement Community, Tuesday, 4320 Forest Hill Dr., Fairfax, VA 22030
Oct. 5, 10 a.m. until 3 p.m., 2019 First Baptist Church of Merrifield Harvest Festival, Saturday, 8122 Ransell Rd., Falls Church, VA 22042
Oct. 5, 10 a.m. until 2 p.m., Sherwood Regional Library, 2501 Sherwood Hall Lane, Alexandria, VA 22306
Oct. 7, 10:30 a.m. until Noon, Heatherwood/Burke Health Care, Monday, 9642 Burke Lake Rd., Burke, VA 22015