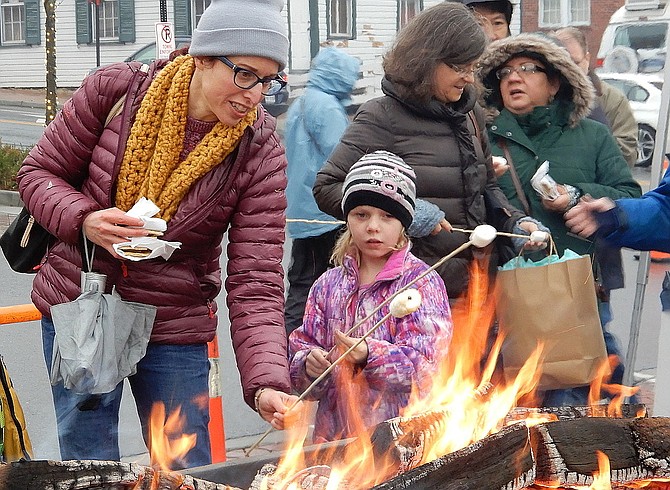 The first three weekends in December will be holiday central in Fairfax City. Here are the details:
Festival of Lights and Carols
This annual event is set for Saturday, Dec. 7, from noon-6 p.m., in Old Town Square, 10415 North St. There'll be live, holiday music plus s'mores and hot cider. The festivities will also include caroling and the lighting of the Christmas tree there at 5:30 p.m.
Twins Ace Hardware Holiday Party
Also on Dec. 7, from 11 a.m.-3 p.m., Twins Ace Hardware at 10310B Main St. will hold a family-friendly celebration filled with holiday-themed activities. They include gifting and home-decorating demonstrations and a photo opportunity with Santa Claus benefiting Children's National Medical Center. Free goodie bags will be given out while supplies last. Children may write letters to Santa and there'll be a coloring-book giveaway.
Guests will also enjoy tasty treats, cold brew created on the grill and special offers on products for holiday gifting. In addition, the store will welcome renowned chef and Ace Hardware national grilling spokesperson, Jason Morse, plus Team Traeger.
"We're excited to host our neighbors, family and friends at our Christmas party, and we're delighted that Chef Jason and Team Traeger will join us for the fun," said Twins Ace Hardware co-owner Craig Smith. "We can't wait to see what they create on our versatile, outdoor grills." For more information, visit: www.twinsacehardware.com/events.
Lunch with Santa
Children will enjoy crafts, lunch and holiday characters in costume, Saturday, Dec. 14, at Old Town Hall, 3999 University Drive. There'll be three seatings – at 11 a.m., noon and 1 p.m. Purchase tickets at City Hall, 10455 Armstrong St.; Green Acres, 4401 Sideburn Road and the Sherwood Center, 3740 Old Lee Hwy., or via fairfaxva.gov.
Holiday Market
The third annual City of Fairfax Holiday Market will be held in Old Town Square, all three weekends, Fridays, Saturdays and Sundays, from Dec. 6 through Dec. 22. A wide variety of craft vendors will sell their wares, with different vendors scheduled each weekend. covered in holiday lights. The fun will include music, hot drinks and gourmet treats.
Dates for the Holiday Market are: Weekend One, Dec. 6-8; Weekend Two, Dec. 13-15; and Weekend Three, Dec. 20-22. The times are: Fridays, 5-8 p.m.; Saturdays, noon-6 p.m.; and Sundays, noon-4 p.m. The vendors are as follows:
Weekend One
…with love stationery collections
ABB Handmade
Ahh…Candles
All That Yazz
Altyn Clark Glass
Bella's Sterling Silver Jewelry
Culpeper Craftsmen
Frocks + Frills
Just Breathe Natural Scents
Made From Coins
Metro-Retro
Penguin Bean Designs
Textile Philes
True Honey Teas
Trupti's Craft
Uniquely Sea Glass LLC
Weekend Two
AMC Woodcrafts
Area718 by Karen Mullarkey
Artsy Like Whoa
Bags2Cute
Bandwagon LLC
Betty Jane's Sweet Delights, Inc.
Cindy's Special Gift
Crochet Treasures
Gourd Art
Homemade Heartfelt
LikeablebBeads by Lisabeth
Little Hat Creek Farm, LLC.
Moonchildren Boutique
Nativo Condiments and Seasonings
Sprelly LLC
Sprout Head
Whole Grain Goods
Weekend Three
Wood and Glass Design
Pet Wants Chantilly
Cupcakes & Beyond
e.c. ornaments
Stix & Stones
Savage and Sweet
InterNutritionals, LLC.
Crescent Clay
Yarn Chef Creations
Artisanal Leather Aprons
Grandma Mary's Buttons & Bows
Mandi's Dandies Soaps & Such
Murrell's Salsa
Silverstar/Painted Coins
The Secret Jewelry Garden
Art by Zachary Sasim
Menorah Lighting
The annual lighting of the menorah, to celebrate the start of Hanukkah, will be held Sunday, Dec. 22, at sundown, in Old Town Square. The festivities will include special treats to eat, plus live entertainment.