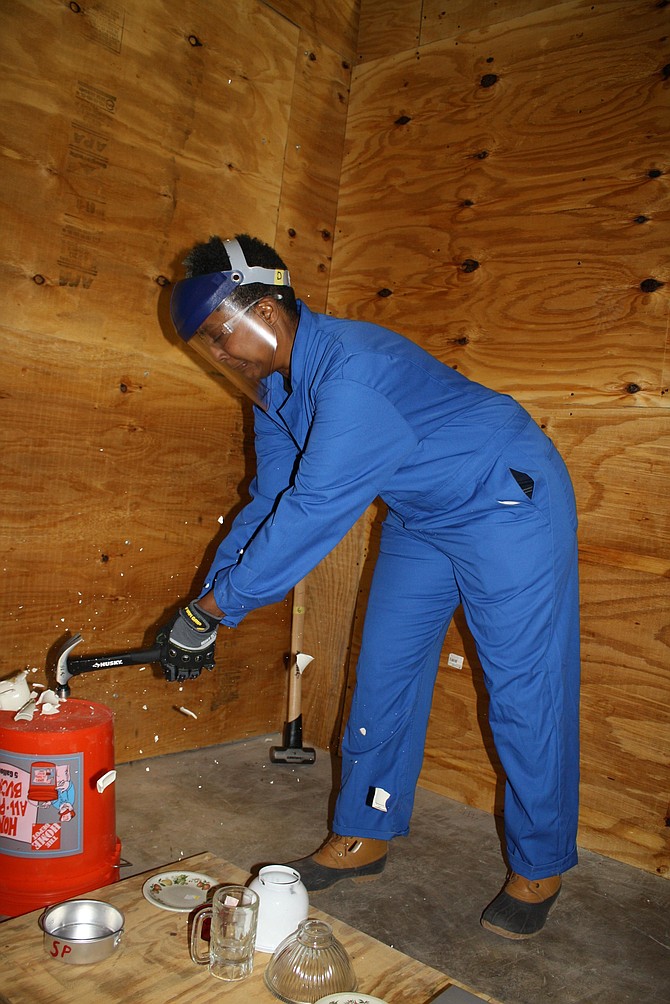 When anger builds up, there's nothing like going at something with a sledge hammer. The sites and sounds of that emotional release can be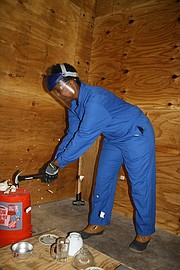 useful for a few minutes, but if it's the family television or an heirloom vase flying across the room, the results can be a problem. That's where a visit to "Smash Pit" can help.
"It's another way for people to get out stress," said Smash Pit owner Katrina Burson. "Our motto is to smash our stuff and not yours," she said.
To participate in this therapy, put on one of their smashing outfits that are complete with goggles, visors, gloves and overalls, grab a hammer and take a swing at their fragile household items. It could be just what the doctor ordered.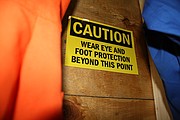 According to their website, Smash Pit is described as family friendly and the ultimate mission is to create a safe, fun environment that combines entertainment and stress release. Located in a warehouse on Southern Drive near the entrance to Lake Accotink Park, the nondescript warehouse setting is ideal for this type of anger management.
Burson is a professional nurse working in research, and came up with the concept a few years ago and hunted for the perfect location for her business. In nursing, she's been involved in wellness in one form or another, and feels that breaking something has its place in the process. "Sometimes that's the way to get it out," she said.
There are four different levels of the program, ranging from "The Jump," a 15-minute session for $35, to "The Smash Pit," a 25-minute session for $65. At home, putting a hammer through the family flat screen television could be over in minutes, but this way, there is a lasting value. "In mental health, we need these outlets," she said. All participants must be over 14 years old, and participants age 14-17 must be accompanied by an adult.
There are big sledge hammers available, but also little hammers that would be found on the tool bench at home too. She's ordering baseball bats too.
The materials on the other end of the anger are old, glass kitchen items, computers and VCRs that were headed to the dump anyway. They are all
Anger Management Tips
Ready to get your anger under control? Start by considering these 10 anger management tips, by Mayo Clinic Staff:
Think before you speak

Once you're calm, express your anger

Get some exercise

Take a timeout

Identify possible solutions

Stick with 'I' statements

Don't hold a grudge

Use humor to release tension

Practice relaxation skills

Know when to seek help
donated items.
Smashing things is not on the list of anger management steps the Mayo Clinic reports on their website, but they have one item, "once you're calm, express your anger," that could possibly fit the activities at the Smash Pit.
Smash Pit, 7701 Southern Drive, Springfield, 571-210-5030, www.smash-pit.com