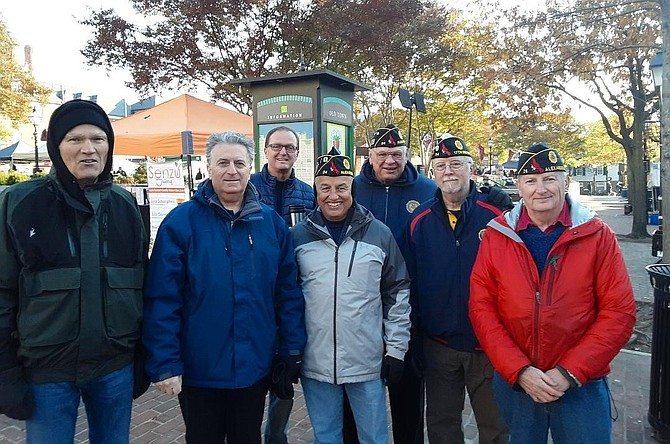 American Legion Post 24 kicked off its participation in the 2019 Salvation Army Red Kettle Campaign Nov. 16 in Market Square.
"This is the 10th year that Post 24 has been supporting the Salvation Army's Red Kettle fundraising drives in Old Town," said Post 24 Commander Henry Dorton. "Our volunteers include Legionnaires, their family members and friends."
The Salvation Army's national headquarters are located in Alexandria and a Citadel Corps on Mount Vernon Avenue in Del Ray provides social services and programs for the local community.
"The Red Kettle program gives volunteers the opportunity to interact directly with the public and helps get everyone in the holiday spirit," Dorton added. "Most importantly, it raises funds to help meet the basic year-round needs of our less fortunate local neighbors."
Now in its 129th year, The Salvation Army's Red Kettle Campaign is one of the oldest and largest charitable campaigns in the world. Last year's campaign for the National Capital region raised $1.2 million, helping 73,874 individuals through a range of services that included emergency social service assistance, homeless nutrition, transitional shelter, an anti-human trafficking shelter, comprehensive substance abuse treatment, disaster relief and programs for youth and seniors. This year's goal is $1.3 million.
"I always say that bell-ringing is the easiest and most fun way to do something good for your community," Dorton said. "After staffing a Red Kettle for the first time, most everyone decides to volunteer again, either that season or the following year."
New this year is "Kettle Pay," allowing shoppers without cash to make a Red Kettle donation electronically via Apple Pay or Google Pay. Near Field Communication devices and QR codes located on each Red Kettle sign allows donors to "bump" or scan their phones to make a digital donation. Electronic donations will be distributed to local Salvation Army units based on the donor's billing ZIP code and an email receipt will be sent directly to their phone.
Donations are also accepted online at Give.SalvationArmyUSA.org, or by texting KETTLE to 91999.
Dorton invited others to join the veterans of the American Legion in their bell ringing, which will continue on Saturdays through Christmas Eve.
"This is also a great way for students to fulfill community service hours," he added.
Anyone wishing to volunteer as a "bell-ringer" with the American Legion should contact Henry Dorton, henrydorton@verizon.net or 703-618-5610.
"It's important to remember that the money raised here, stays here," Dorton said. "Donations are used to support our local community through day care, food pantries, homeless services, soup kitchens and music programs."
www.salvationarmyNCA.org