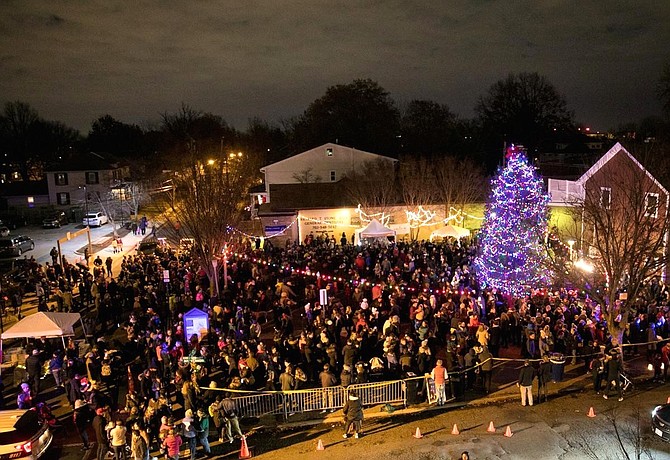 The Del Ray community kicked off its holiday season Dec. 8 with the lighting of a 35-foot Christmas Tree at the Pat Miller Neighborhood Square.
The evening's festivities included a menorah lighting, a performance by the T.C. Williams High School Choir and a visit with Santa.
Lighting Mount Vernon Avenue were hundreds of luminarias in honor of Nancy Dunning, a Realtor and wife of then-sheriff Jim Dunning, who was known as "the queen of Del Ray." Dunning was slain in her Del Ray home in December of 2003.
On hand to kick off the festivities were Washington Nationals broadcaster F.P. Santangelo and Bob Fitzgerald, father of longtime Del Ray volunteer Pam Fitzgerald, who died earlier this year following a battle with breast cancer.
Located at the corner of Mount Vernon and East Oxford avenues, the tree was provided by "Mango" Mike Anderson and Bill Blackburn of Pork Barrel BBQ, Holy Cow Del Ray and the Sushi Bar. The restaurateurs selected and cut down the tree while Smoot Lumber donated a flatbed truck for transportation to Alexandria from Western Maryland. Mike Dameron of Windmill Hill Design Build created a custom heavy tree stand and donated a crew to erect and decorate the tree.
"Thanks guys! You make it possible for us to live in the absolute best, most generous and giving community," posted local resident Gayle Reuter on social media.
Also lining Mount Vernon Avenue are 12 holiday trees decorated by local nonprofits. Voting for the best decorated tree contest began Dec. 8 and will continue through 5 p.m. on Christmas Day with the winning nonprofit receiving a $500 donation from the Del Ray Business Association.
Del Ray holiday festivities will continue with Twelve Days of Wellness from Dec. 9-20; the Shops of Del Ray's Ladies' Night Out on Dec. 12; and the Del Ray Candy Cane Crawl on Dec. 14.
www.visitdelray.com