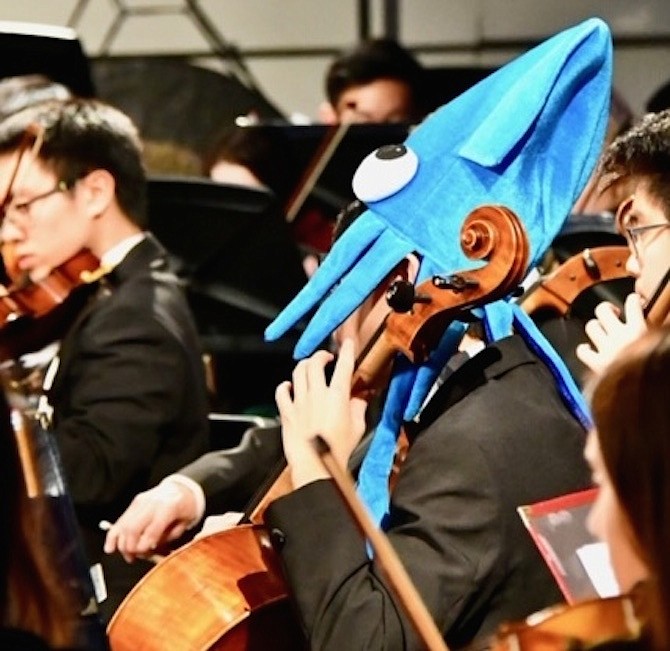 The Langley High School Orchestra performed its last concert of 2019 on Tuesday, Dec. 10, in the Langley High School Auditorium. The "H20" themed concert was a beautiful compilation of pieces that had numerous different connections to water.

The concert commenced with the Concert Orchestra playing "Variations on a Well-Known Sea Chanty" by Richard Stephan. This Sea Chanty - a work song that was commonly used in mid 19th century America on merchant sailing vessels - included many distinct components. Bedrich Smetana's "Themes from 'The Moldau'" followed the Sea Chanty.
This piece depicted the journey of the river Moldau at two springs in the Bohemian forest, to the Czech countryside, and finally to Prague.
Next, sounds from the deep ocean were heard on the piano as Langley High student, Karina Wugang, played Étude Opus 25, No. 12, "Ocean" by Frederic Chopin as an interlude piece.
"I loved how each song had to do with some kind of body of water," said Freshman violinist Matteo Stoddard, "it was cool how one piece was from 'The Little Mermaid' and the next could be an Étude on the piano but they both have a connection to a body of water."
Following the interlude, the Philharmonic Orchestra performed Alexander Safford's "The Call of the Sea" that seemed to depict harsh currents within the sea. In contrast, Ralph Vaughan Williams' "Fantasia" from the motion picture "Master and Commander" was played, illustrating calm and serene waters. The Philharmonic Orchestra ended by playing "Calypso Jam" by Dean Marshall (arr. Bachmann) in which many first and second violinists played solos within the piece on electric violins.
"I really liked Calypso Jam," said Senior cellist, Joey Park, "it was fast moving and fun. Plus, the electric violin solos with the cool sound change to the piano made it really unique."
An interlude from a Langley High School pianist, Cao Linh Pham, was played following the Philharmonic Orchestra. The interlude, "Deep Sea Trench" was composed by the talented high school senior.
Finally, the Symphonic Orchestra performed the melodious "Water Music Suite" by G.F. Handel (arr. Etling). This was followed by two pieces from Disney motion pictures: "The Little Mermaid" by Alan Menken (arr. Moore) and "Pirates of the Caribbean: At World's End" by Hans Zimmer (arr. Bulla). These two familiar pieces were fun, fast paced, and a great way to end the concert.
The combination of the students' hard work, transparent through the beautiful and entertaining music, along with Mr. Adam Willett and Dr. Scott McCormick's incredible conducting and teaching truly guaranteed that the Langley High School Orchestra ended 2019 with a splash.