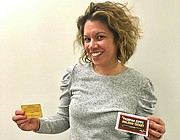 It's always fun to win a prize. And this year, people have a chance to do so courtesy of a new addition to the Fairfax Chocolate Lovers Festival – the Golden Ticket Contest.
"We've commissioned Cameron's Coffee & Chocolates to make 1,500 Golden Ticket chocolate bars with the City's logo on it," said Danette Nguyen, with Fairfax's Office of Economic Development. "And hidden within three of them will be golden tickets."
The three lucky winners who find the golden tickets will each receive a Chocolate Lovers Gift Basket valued up to $200, plus a tour of the chocolate-making process at Cameron's facility at Fairfax Circle. "It's like 'Willy Wonka and the Chocolate Factory,'" said Nguyen. "And who doesn't want to sing, 'I've Got a Golden Ticket,' like Grandpa Joe in the movie?"

The inspiration for this adventure was that movie and the book it's based on, "Charlie and the Chocolate Factory." And sponsoring the contest are the City of Fairfax Office of Economic Development and the Central Fairfax Chamber of Commerce.
Chocolate aficionados may purchase the limited-edition, Fairfax City Golden Ticket Chocolate Bars at participating Old Town Fairfax City businesses. From Feb. 1-10, some 27 restaurants, shops and other businesses in the Old Town area will sell the chocolate bars for $2 each.
Proceeds from the sale of the chocolate bars will go to the 2019 Chocolate Lovers Festival grant recipients: The Northern Virginia Therapeutic Riding Program, Fairfax Law Foundation – Northern Virginia Pro Bono Law Center, and the City of Fairfax Band Assn. All three are charitable organizations that are either in the City or provide services directly to people who live in the City of Fairfax.

"Our City's small businesses welcome festival attendees into the City and are excited to participate in this wonderful, annual event," said Economic Development Director Chris Bruno. "We're happy to connect festival attendees with small businesses. Events like the Chocolate Lovers Festival are just another reason why Fairfax City is the best jurisdiction in Northern Virginia in which to own and operate a small business."
Jennifer Rose, executive director of the Central Fairfax Chamber of Commerce, agreed. As one of the festival's original founding organizations, she said, "The Central Fairfax Chamber of Commerce is proud to be a part of the Golden Ticket promotion. We exist to help the business community thrive. Strong business makes strong communities, and strong communities make strong businesses."
For more information about the Golden Ticket contest, a list of places to buy the special chocolate bars and even a map of their locations, go to fairfaxcityconnected.com/goldenticket. Each ticket will contain directions on how the winners may redeem their prizes.
"It's a fun contest because of the nostalgia it brings," said Nguyen. "And by having the chocolate bars at our local businesses, we're able to show people the City's diversity. It makes them aware of businesses they might not have visited before. We think this is going to be great."