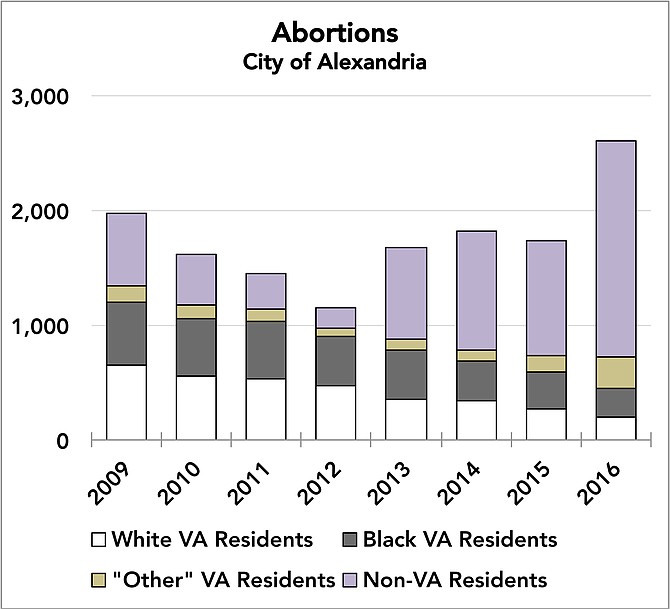 Republicans recently halted two bills in the General Assembly that would have lessened restrictions on abortions, notwithstanding support for the bills from some of Alexandria's all-Democrat state delegation.
Either bill (SB 1451 or HB 2491) would have eliminated current requirements that:
Second trimester abortions be performed in a hospital, though clinics may be closer to where a woman seeking an abortion lives;
For third trimester abortions, two additional consulting physicians concur "the pregnancy [would] likely to result in the death of the woman or … impair [her] mental or physical health;"
For third trimester abortions, such impairment to the mother be deemed "substantial and irremediable;"
Non-complying physicians be subject to a $2,500 civil penalty;
Physicians or physician-supervised medical professionals follow a prerequisite checklist in obtaining a woman's "informed written consent."
Currently, prior to receiving an abortion, a woman must receive an ultrasound and an opportunity to view it; "a full, reasonable and comprehensible medical explanation of the nature, benefits, and risks of and alternatives to the proposed procedures or protocols to be followed in her particular case;" and an opportunity review materials describing "accurate scientific information about the human fetus," alternatives (including "adoption as a positive alternative"), medical assistance benefits, and "geographically indexed" public and private resources and services.
In an 8-7 party line vote, Republicans in the Senate Committee on Education and Health voted on Jan. 17 to "pass by indefinitely" SB 1451, effectively killing it. Sen. Richard Saslaw (D-35) and Sen. George Barker (D-39), who represent western Alexandria and serve on the committee, voted to keep the bill afloat. In a 5-3 party line vote, Republicans in a House subcommittee similarly stayed HB 2491.
Saslaw co-sponsored SB 1451; Del. Mark Levine (D-45), who represents eastern Alexandria, co-sponsored both; Sen. Adam Ebbin (D-30) and Del. Charniele Herring (D-46), the remainder of Alexandria's delegation, co-sponsored neither.
Speaking against SB 1451 on Jan. 17, Felicia Pricenor of the Virginia Catholic Conference, representing the state's Catholic bishops: "[We support" maintaining strong informed consent laws … that provide every woman with the best and most complete information prior to making a life and death decision for her unborn child."
Speaking in favor, Sen. Jennifer L. McClellan (D-9), the bill's sponsor, said: "All of these [current] requirements are medically unnecessary. … You don't get to the third trimester and wake up and say, I've changed my mind. You seek an abortion because something has gone horribly wrong. … The practical implications [of the current law] have been that, for lower income women, it is much harder for them to do what they find medically necessary than [it is for] well-off women."
"[The Virginia Department of Health] does not ask for information on why the [abortion] was performed other than if the reason was due to an unknown genetic issue," said Dr. Stephen Haering, director of Alexandria's health department, in a December email.
In a nationwide survey of women who terminated first or second trimester pregnancies during 2008-2010, published in BMC Women's Health, 12 percent indicated health reasons. Respondents cited financial, timing and relationship issues roughly 3-4 times more often.
Cumulatively from 2009-2016, about 174,000 pregnancies were terminated in Virginia, and about 14,000 in Alexandria, according to the Virginia Department of Health's latest available annual reports. About 99 percent of these were first trimester pregnancies, in the few years where such a breakdown is provided. For Virginia residents, most were "non-marital" — roughly 80 percent for whites, 90 percent for blacks, 60 percent for "other" races, both statewide and in Alexandria.
This article was corrected Feb. 13, 2019, to state: "In a nationwide survey of women who terminated first or second trimester pregnancies during 2008-2010, published in BMC Women's Health, 12 percent indicated health reasons."