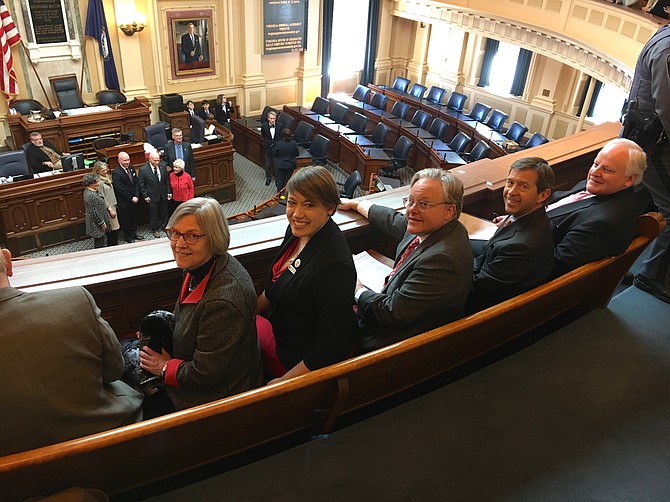 Virginia's 2018 Teacher of the Year, Michelle Cottrell-Williams, a social studies teacher at Wakefield High in Arlington, was recognized by both houses of the Virginia General Assembly on Jan. 30 for her service as an Ambassador for the 2019 Commemorations Schools program.
The 2019 Commemorations Schools program is a statewide initiative to make the themes of the 2019 Commemoration – democracy, diversity, and opportunity – relevant to students across the Commonwealth. The 2019 Commemorations Schools program provides tools and resources to accompany schools as they promote these themes and incorporate 2019 spirit and knowledge into the state's school communities and classrooms.
American Evolution Executive Committee Members Jeanne Zeidler, H. Benson Dendy, Paul D. Koonce and Frank Atkinson joined Cottrell-Williams for the Morning Hour sessions of the Virginia General Assembly.
The 2019 Commemoration Schools program recognizes the 400th anniversary of 1619 Virginia events that changed the trajectory of Virginia and America's history. These 1619 events include the First Representative Legislative Assembly in the New World, the arrival of the first recorded Africans to English North America, and the recruitment of English women in significant numbers to the Virginia colony, and the first official English Thanksgiving in North America.
For more information about American Evolution's upcoming events, programs and educational initiatives, visit AmericanEvolution2019.com.