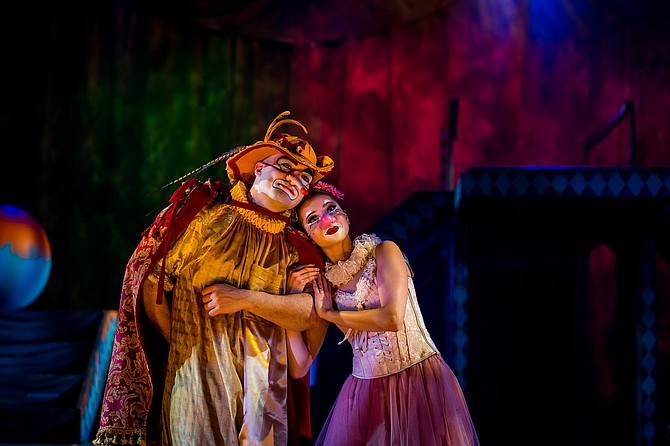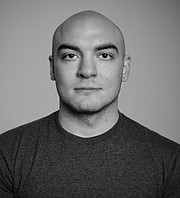 Synetic Theater in Arlington is presenting "Cyrano de Bergerac" from now through March 10. A brilliant poet and soldier, Cyrano de Bergerac apparently has it all — except the confidence to win the heart of his beloved Roxane. Lacking traditional good looks and the ability to truly "fit in," Cyrano partners with his handsome friend Christian, also in love with Roxane but lacking Cyrano's way with words. Together, the two make a formidable suitor as Cyrano expresses his true feelings for Roxane in the only way he feels he can — through love letters apparently written by Christian.
Making his directorial debut is Vato Tsikurishvili, the son of Synetic co-founders Paata and Irina Tsikurishvili. A native of the Republic of Georgia, Vato is an award-winning actor, choreographer, and educator with more than a decade of experience imparting Synetic's style to audiences and students of all ages. He has been performing since age 4 and has an athletic background, having trained in fencing under Olympic coach Vladimir Nazlymov and in gymnastics with his grandfather, Olympic coach Arnold Kvetenadze. The show's choreographer is his mom Irina.
According to Vato Tsikurishvili: "First, 'Cyrano' is very timely. Especially if we treat the story as metaphorical rather than literal, parallels can be drawn to many facets of our everyday lives — especially in a world where social media reigns supreme, where the number of followers and likes we get directly correlates to false feelings of self-worth and value. Today, one must produce an image that fits a subjective aesthetic, yet what is real and true must be locked away and only revealed to those closest to us. The adage of 'don't judge a book by its cover' is lost and flipped in today's daily interactions, and Cyrano is the ultimate example of that. He's the most intelligent character in the play, and yet he holds himself hostage to his misshapen nose because it doesn't conform to his society's ideal of beauty."
He continued: "As a result, his priorities are flipped. Instead of valuing the little time life gives him to spend with the one he truly loves, he chooses to suffer, hiding his anguish in her presence. I wanted to show this loss, the tragedy of this huge misconception on Cyrano's part, which results in a devastating missed opportunity."
Since this was his first time as a director, he said it was a definite learning process. "The hardest part for me was getting over my own 'nose.' By nature, I am not one that likes to make the decisions; I often defer and go with the artistic flow. I can adapt to various situations, but it's still an ongoing battle. I catch myself asking rather than telling," he said.
He added: "Another challenge is simply my name — a name that is associated with two geniuses who achieved the American Dream and became a staple in the D.C. theater community. There's some pressure there, to say the least, and there's also a different energy when Paata is in the room. For example, he was at rehearsal one night, watching a scene. He pitches an idea that's just genius, and boom, we incorporate it and the scene's amazing. I had spent about two months prepping for this show, and he just rolls into rehearsal with all these great ideas in his back pocket. It's remarkable. For me, the challenge here is not being too hard on myself for not yet being at that level."
He said probably the biggest challenge was cutting the cast down to six actors. "My original cast size was 12 but the actors we have are great, so as daunting as the number was, we certainly overcame that obstacle. As an audience member, you won't be missing the other six actors; you'll swear you saw all 12 of them onstage. What they're doing is really amazing stuff that truly fills the space."
For audience takeaways, he said the answer was simple: Don't waste time. "Don't be a victim to your metaphorical nose. Overcome your self-consciousness. Whatever's bothering you about yourself, chances are that it's nowhere near as bad as you think. You are beautiful. You are great, so go live your best life and be happy while you can. Cherish every moment, because, even reading this is now, it's already in the past. That's how fast time passes, so don't be Cyrano; he made the mistake for you."
Synetic Theater in Arlington is presenting "Cyrano de Bergerac" from now through March 10. Performances are Wednesdays through Saturdays at 8 p.m. Sundays at 2 p.m. Tickets start at $30. The venue is located at 1800 South Bell St. Call the Box Office 866-811-4111 or visit www.synetictheater.org.