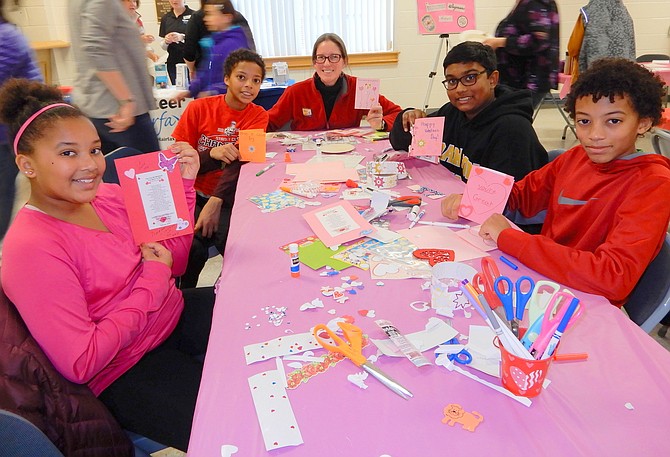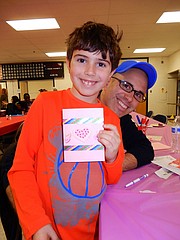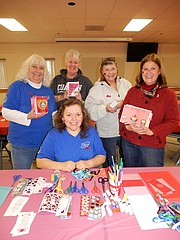 For more than 40 years, Volunteer Fairfax has worked to build better a community through service. And via its annual Valentine's Challenge, some 425 volunteers spent part of a rainy Saturday making heartfelt Valentines to send to children needing some sunshine in their lives.
Armed with stickers, doilies, scissors and glue, they gathered Jan. 19 inside Fire Station 3 in the City of Fairfax to make their cheerful creations. People of all ages participated; and by the end of the day, they'd made 5,100 Valentines.
Receiving them would be children in foster care and child protective services in Fairfax County, plus college students who recently aged out of foster care and receive guidance from the Foster Care to Success program.
"What a special and amazing day," said Kim Luckabaugh, program manager with Volunteer Fairfax. "The overwhelming support was so heartwarming."
The Fairfax Wegmans donated breakfast snacks for the volunteers. And comprising these Valentine-makers were youth, service clubs, local corporate employees, Girl Scouts, senior citizens, families, sororities, groups of friends, and members of Volunteers for Change. A program of Volunteer Fairfax (www.volunteerfairfax.org), Volunteers for Change connects adult volunteers to needs in the community.
Also stopping by to lend a hand were Del. Mark Keam (D-35), Fairfax Mayor David Meyer and City Councilman Sang Yi. Some of the students participated for community-service hours for their schools, but others came for different reasons.
Julie and Erik Pozo enjoyed watching their children, Theo and Josie, decorate Valentines. "We want to instill good behavior in them," said Julie Pozo. "We also want them to be thankful for what they have."
GMU senior Agnes Rhee, now working on her second degree there, and GMU grad and professional cellist Emma Johnson, made their Valentines together. "We both just wanted to volunteer more often, and I thought this would be fun," said Johnson. And, added Rhee, "It was a New Year's resolution to volunteer more."
The Woman's Club of Fairfax also participated in a big way. "We partnered with Volunteer Fairfax and wanted to do something for MLK [Martin Luther King Jr.] weekend," explained club member Mary Driver-Downs. "So [a few months ago] we asked Volunteer Fairfax how we could help."
After learning about the Valentines project, the club members began collecting supplies for the event at their meetings. As a result, they were able to contribute glue sticks, construction paper, doilies and 8,620 Valentine-themed stickers. In addition, eight Woman's Club members donated refreshments and eight others helped during the event.
Furthermore, the Virginia Service Foundation gave Volunteer Fairfax a $250 grant for further supplies and to help carry out the event. And inside each Valentine was an inspiration poem of encouragement. One such poem contained the message, "There is inside you all of the potential to be whatever you want to be… And though at times, it may seem too difficult to continue, hold on to your dream."