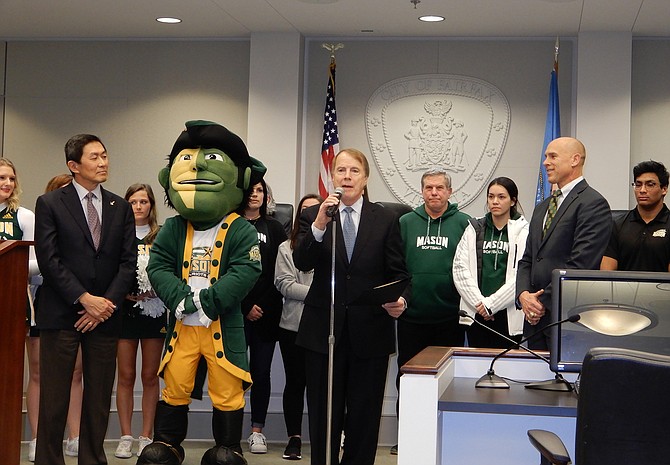 The City of Fairfax is proud to have a world-class university such as George Mason in its midst, and it's displaying its school spirit in several ways. Most recently, it did so during the Jan. 22 City Council meeting.
That evening, GMU professors, students, athletes, alumni and administrators packed the City Hall Annex to see February officially declared GMU Patriots Month in Fairfax. Presenting a proclamation to that effect was City Mayor David Meyer, noting that "GMU has just under 38,000 students and is the fastest-growing university in Virginia."
Now, both the school and City are busily and eagerly preparing for GMU's Homecoming Week, Feb. 18-23. Fairfax and its Economic Development Authority (EDA) are partnering with Mason to celebrate the event with activities including "Paint the City Green" and "Patriots in the City."
For "Paint the City Green," said Danette Nguyen with the City's Office of Economic Development, "Over 20 Old Town Fairfax businesses will join with GMU student organizations, clubs, fraternities, sororities and athletic groups. They'll use the school's green-and-gold colors to paint their storefront windows."
She said the idea is for the businesses to illustrate GMU's Homecoming theme, 'Brave and Bold,' to "show their Patriot pride and how the City supports the university." Then Meyer and the Fairfax City Council will choose the winner.
Entries will be judged on how well they carry out the theme, and the winning display window will be announced during GMU'S Homecoming basketball game on Saturday, Feb. 23. For a list of participating businesses, go to http://fairfaxcityconnected.com/masonhomecoming/ and click on "Paint the City Green."
As for "Patriots in the City" – which will also run during that entire week – more than 30 Fairfax City businesses, including restaurants, will extend discounts to GMU students, alumni and faculty members. For a list of which businesses are participating, what they're offering and a map of their locations, go to http://fairfaxcityconnected.com/masonhomecoming/. Click on "Patriots in the City" and scroll down to "Patriot Specials." To take advantage of these offers, members of the GMU community just have to show their Mason ID or alumni pass available at alumni.gmu.edu.
Some other Homecoming activities include the following:
Sunday, Feb. 17: At 2 p.m., Coyote Grille, 10266 Main St., will host a men's basketball watch party as GMU's Patriots take on St. Bonaventure.

Monday, Feb. 18: A Homecoming Week tip-off party will be held from 6-8 p.m. on the main and top levels of the Hub (Fairfax campus). There'll be live music, arcade games courtesy of the Corner Pocket and free food catered by Coyote Grille. Special guests from the men's and women's basketball teams will help distribute this year's Homecoming T-shirt, and various Fairfax City vendors will tell students how they can get involved with the local community.

Wednesday, Feb. 20: Homecoming Week is also about giving back to the local, Fairfax community. So from 11 a.m.-6 p.m., the Patriot Activities Council will host three service activities for students in the GMU Hub. More information and student sign-ups are at https://homecoming.gmu.edu/dayofservice/.

Thursday, Feb. 21: In GMU's Center for the Arts at 8 p.m., comedian Preacher Lawson will perform. The only comedian to make it to the 2017 finals of "America's Got Talent," he returned for the TV show's current season of champions. Tickets are $5, students; $10, faculty, staff and alumni; and $15, general public. People not purchasing tickets on campus may buy them online at tinyurl.com/PreacherLawson.

Saturday, Feb. 23: The Homecoming basketball game is at 4 p.m. in EagleBank Arena, where the Patriots will tangle with Duquesne University.