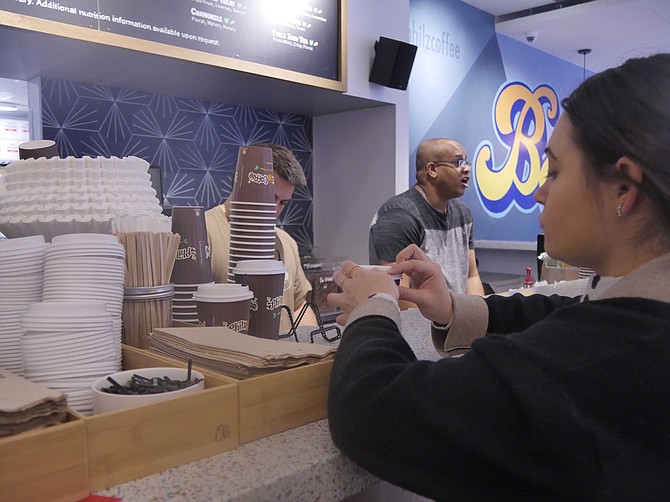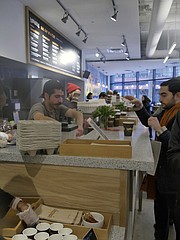 "Large or small? Light, medium or creamy?" The barista at Philz Coffee on Wilson Boulevard stretches two fingers to show how much milk each represents in a cup of the hand-crafted coffee. Philz opened its first Virginia store on Feb. 7 and handed out free coffee plus tastes of avocado toast and labneh toast on Valentine's Day.
A line of customers stares at the blackboard, listing specialties with names like Silken Splendor, Ether, Canopy of Heaven. The line has been 20 strong starting at the door and extending the length of the counter since 8:30 a.m.
Chris Knight who describes himself as part of the opening team, "well, the one-man opening team," said, "We start with black coffee and then make it to your taste. We are known for our personalized approach." He says the two most popular coffee choices by far have been the Tesora, which is a combination of caramel, nuts and butter, and the iced Mint Mojito, "even in winter. You have a lot of iced drinkers here."
Knight says tasting the coffee drinks is similar to wine. For instance, the Philharmonic is a medium roast "with an earthy undertone and then the cardamom spice we add kicks in at the end." Knight says usually people start out with the familiar and then start to explore new drinks.
Knight says he travels around the country opening Philz Coffee locations. He has just come from Bethesda where they opened a store last month and before that he was at Minnesota Street in San Francisco where they have 11 stores. "I'm a wanderer. Actually I grew up in the LA and live in San Francisco. I'll spend the summer in Chicago." Knight says it takes about two and a half months to open a store from the lease signing. "The building permits usually take the longest."
He said, "We heard a lot of great things about the Ballston Exchange area. It feels the same here as the D.C. locations, but different. It's friendlier." Knight said, "We are happy to join the new mixed use project here that reimagines the cityscape by introducing a variety of retail, commercial, and public open spaces to support a thriving neighborhood."