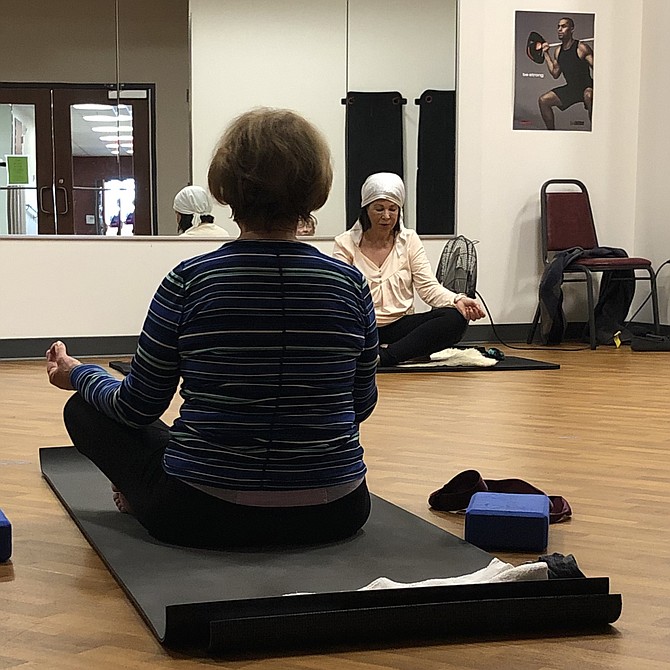 Looking for a way to detach from the daily stressors of life? Then look no further than Christine Mason's Kundalini Yoga classes. She has been teaching yoga for 19 years and is a certified Kundalini teacher. "Kundalini is the yoga of energy," explained Mason. "It has rhythmic movements to it. Research shows that all yoga is good for the brain, but with Kundalini it will give you changes in the brain more quickly. There's something about that rhythmic movement and how you're focusing your breath when you move."

According to 3HO, which stands for happy, healthy, and holy, the pillars of which Kundalini Yoga stands for, Yogi Bhajan brought Kundalini to the West from his home of Pakistan. In this specific type of yoga, you are trying to harness the mental, physical and nervous energies of your body. By using breadth, mudra, eye-focus, chanting, and postures you are balancing your glandular system, stringing your nervous system, expanding lung capacity, and purifying your blood. It brings together body, mind, and the soul.

Years ago, Dr. Mason decided to try yoga to fix her allergies to certain foods. "I was having trouble with food sensitivity and I visited a variety of people to try and get better. I finally saw this woman who was advertised as a healer and she suggested I teach yoga because of my energy. I got such relief from what she did and I thought 'wow I should do it' and it's been life-changing."

Dr. Mason has co-written a book called "Mindfulness Practices" with Michele M. Rivers Murphy and Yvette Jackson. She has another book set to come out this year. Dr. Mason teachers Kundalini classes on Thursday evenings in Vienna at the Emmaus United Church of Christ (located at 900 E Maple Ave. E) from 6-7:15 p.m. and in Oakton on Saturdays from 9:30-11 a.m. at the Unitarian Universalist Congregation of Fairfax (located at 2709 Hunter Mill Road). You can find out more about her classes at www.edimprovement.org/local-yoga-meditation-classes/.