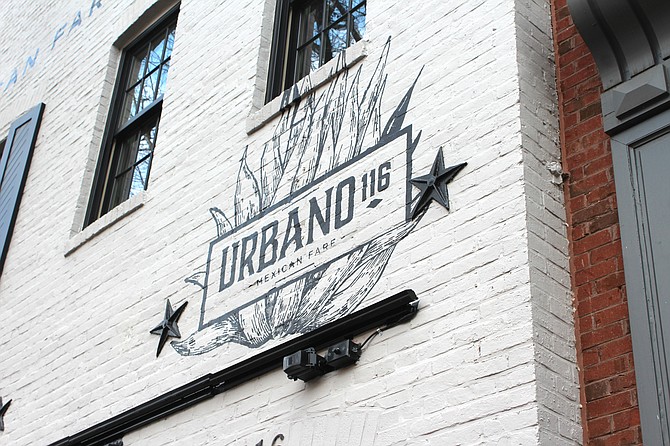 Fans of Mexican food, rejoice: The fresh, festive fare has carved out a new location on lower King Street. Urbano 116, the latest concept from Common Plate Hospitality, opened its doors Dec. 21 and has begun to settle in some seven weeks on.
"I'd always wanted to do a Mexican restaurant; that's always been my dream growing up," said Common Plate co-founder Chad Sparrow. "… I couldn't ask for a better location because there's no other Mexican down there really on the lower part of King."
The tacos, the enchiladas, the tostadas – it's all there. As well as a passel of surprises that may delight – or, sometimes, challenge – new customers. All of this is the grand plan of Chef Alam Mendez, a Mexico native who moved to the United States specifically to take the helm at Urbano 116.
When touring Mexico to firm up ideas for Urbano 116, Sparrow said, the team met Mendez. The rest fell into place over the course of the following weeks and months.
"The best food I had (in Mexico) was at his restaurant there, so I asked him would he consider coming over to train me and the staff in traditional cooking methods of moles and tortillas," Sparrow said.
Mendez agreed and came to visit the States, trained the culinary team and "we really kind of hit it off and we had very similar visions," Sparrow said.
After a series of back-and-forth discussions, Mendez decided to pick up stakes and make the move to Alexandria, where he's settled in as the restaurant's top chef, whipping up the likes of carnitas tacos and mushroom soup on a daily basis. Some dishes customers will find inherently familiar; some dishes, perhaps not.
Either way, Sparrow warns, don't come in expecting a typical Tex-Mex style experience.
The portions, he says, aren't as gargantuan as many of the region's Mexican restaurants have set as precedent. And the menu items? Alongside the familiar, one will also find chapulines – heirloom, farm-raised grasshoppers that "taste almost like a sunflower seed a little bit," Sparrow said – as well as the likes of cactus, which is "also a unique thing to try as well."
But don't let the food get in the way of a good cocktail. Urbano 116 prides itself on its mezcal program. The bar currently boasts 16 varieties of the smoky-tasting liquor and has its sights set on more as time goes by.
"A huge thing that they do in Mexico when you sit at the table is instead of a glass of wine, you get a mezcal," Sparrow said. At Urbano 116, patrons can drink the liquor like a shot or try it mixed into a cocktail – of which the bar has several.
The Old Oaxacan, for instance, is a Mexican take on an old-fashioned, mixing mezcal with agave syrup and bitters, allowing the savory undertones of the star ingredient to shine.
As spring finally dawns, keep an eye out for a churro window to open up, serving the sweet pastry treat to King Street pedestrians as they saunter by. Sparrow hinted at the possibility for street tacos, as well – to be ordered right there on King Street.
A new restaurant, new cuisine, new chef, new customers – it's been a busy winter for Common Plate Hospitality and Urbano 116. But Sparrow is taking it in stride.
"We're really thrilled about it," he said.
If You Go
Urbano 116, 116 King St.
Hours: 11 a.m.-midnight Monday-Wednesday; 11 a.m.-2 a.m. Thursday-Saturday; 10 a.m.-midnight Sunday.
Try this: The corn tortillas. "A lot of people have a thing in America against corn tortillas, which I understand because they're made with masa flour," Common Plate Hospitality co-founder Chad Sparrow says. Urbano 116 grinds the corn, imported Oaxaca, in-house for a fresh final product. "The only ingredients are corn and water."
Hope Nelson owns and operates the Kitchen Recessionista blog, located at www.kitchenrecessionista.com. Email her any time at hope@kitchenrecessionista.com.