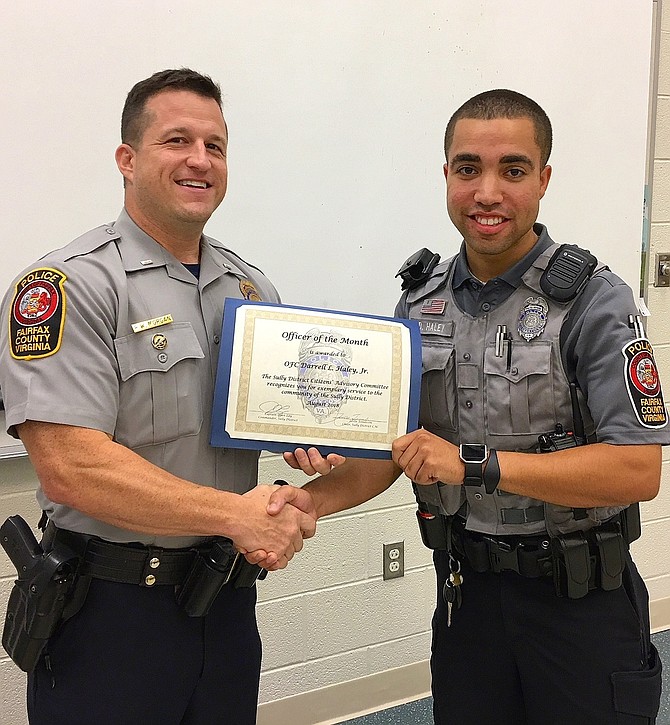 PFC Darrell L. Haley Jr. was recently selected as an Officer of the Month for the Sully District Police Station. And as such, he was honored at a meeting of the station's Citizens Advisory Committee.
Police 2nd Lt. Brian Calfee nominated him for Officer of the Month, explaining why Haley is deserving of this award. He also noted that, from an early age, Haley has supported the Fairfax County Police Department and the community it serves.
"As a teenager, he joined the team as a Police Explorer," wrote Calfee. "It's a volunteer program that provides opportunity to learn about law enforcement, serve the community through public service and teach important life skills, such as leadership, public speaking and self-confidence."
After that experience, Haley became a police cadet, learning additional policing fundamentals and becoming more integrated with the role of a county police officer. Then, having graduated from the Fairfax County Criminal Justice Academy in 2016, he was assigned to the Sully District Station.
"On a nightly basis, Haley works to make the Sully community safe by providing outstanding police service," wrote Calfee. "He works with community members to find solutions to problems and takes enforcement action when warranted. He has established himself as an efficient, productive and energetic officer who has a keen sense for spotting criminal and reckless behavior."
"His work ethic is sound and is rarely achieved by officers with similar time in grade," continued Calfee. "Unexpected chaos can occur at any moment, and officers like Haley respond without hesitation." Calfee then offered a couple examples of what he described as Haley's "exemplary behavior."
One instance occurred while Haley conducted speed enforcement on the Fairfax County Parkway – "a stretch of road known for excessive speed and reckless driving behavior," wrote Calfee. "Haley attempted to stop a motorist; however, the driver dismissed the officer and accelerated.
"The motorist's driving behavior had already placed others in danger long before he was intercepted by the officer, and it was clear the driver had no intention of yielding to police or others in the area. Using sound judgement based on training and experiences, Haley performed a Precision Immobilization Technique [forcing the driver to lose control of his vehicle and stop] just before the offending vehicle entered a residential area. Doing so effectively and safely ended the pursuit and allowed for an apprehension without injury."
In another instance, Haley responded to an unknown situation. Initially, officers only knew that a woman was screaming over the phone. "Through a translator, it was discovered she was frantic because her baby had stopped breathing," wrote Calfee. "Haley was the first to arrive. Alone, he was handed a seemingly lifeless infant."
But after doing a quick assessment of the baby, he instinctively started to perform chest compressions. "After what must have seemed like a lifetime, the infant started to react and show signs of life," wrote Calfee. "Care of the infant was eventually turned over to Fire and Rescue Department personnel. It was determined that the baby had an adverse reaction to immunizations, coupled with a probable lung infection."
In conclusion, Calfee stated that "These examples of conduct and character demonstrated by Haley, coupled with many other intangible efforts, show his dedication to our great community." For all these reasons, Calfee then nominated Haley to receive the Sully District Station's Officer of the Month award.